Business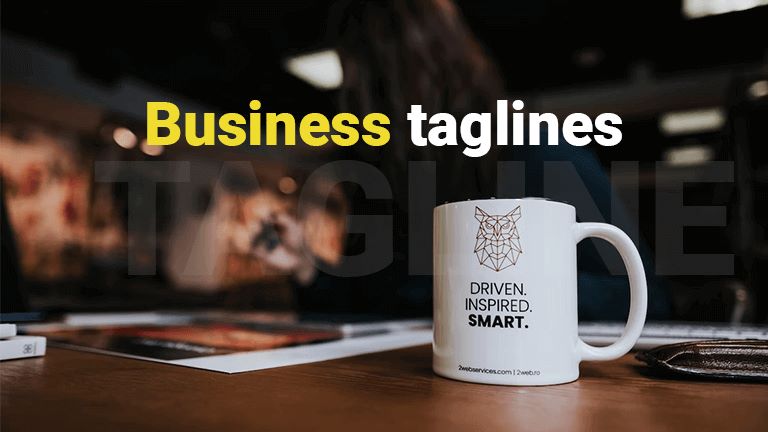 Are you able to 'Think Different'? Well, that's what Apple's Tagline says, and that is why they have brought one of the most iconic technological innovations on the global front. Business Taglines speak a lot, in just a few words. To start with, if you are a digital marketer, then a Good Business Tagline will level up your digital marketing process to the next level of recognition.
It takes just 3- 5 words to bring awesomeness into a brand and that is the positive impact that a good business tagline can drive in for you. In case your search for the best business tagline ideas trailed to this page, you are in luck. More than ideas, we help you understand how to pick the perfect Business Taglines for your business.
Taglines are a beautiful concept brought into the marketing family. They have often been confused with slogans, captions, smart catchy phrases, and lots more. But there is a whole dimension of impact to the world of Business Taglines. If Nike and Apple are on your mind, it's because they have created exemplary taglines and slogan and they have utilized creative social media marketing to boost their online presence and multi channel sales. This is what we like to dwell on at this time. Have you ever created a tagline and doom scrolled far enough to listen to the negative bandwagon talks of your choice? Taglines can be a very personal choice, and it becomes a success or a failure sometimes. If the tagline is able to connect rightly with your brand, product, and service, then let's just say, you are on the right path of thought. If not, surely, this needs a quick rethought.
For this, you need to understand what is a business tagline and how it will help your business grow immensely. Those new to the world of SEO, marketing and business understand that a business tagline is not any simple word, phrase, or sentence – it holds much more depth. Once you understand how to use and frame the perfect business tagline for your business, you will understand how to augment your search engine optimisation and your overall marketing process entirely. Let's also take time to see the famous companies that have built a successful empire with the right business tagline.
What is a Business Tagline?
The perfectly crafted tagline will work, connect with the audience, and amplify the worthiness of the business beyond your expectations. Business Taglines are one-line phrases that are super innovative, attractive, and unique. Within just a matter of 3- 5 words, the business tagline should be able to summarize the essence of your brand identity. Successful Business Taglines add that invisible voice to the brand, thereby adding life to digital marketing and advertisement efforts optimally.
Yes, we do know that explaining the magnum of your company brand within a few words is not an easy task. That's why we have here to cover you up in the most simple manner.
Purpose of a Business Tagline in Today's Business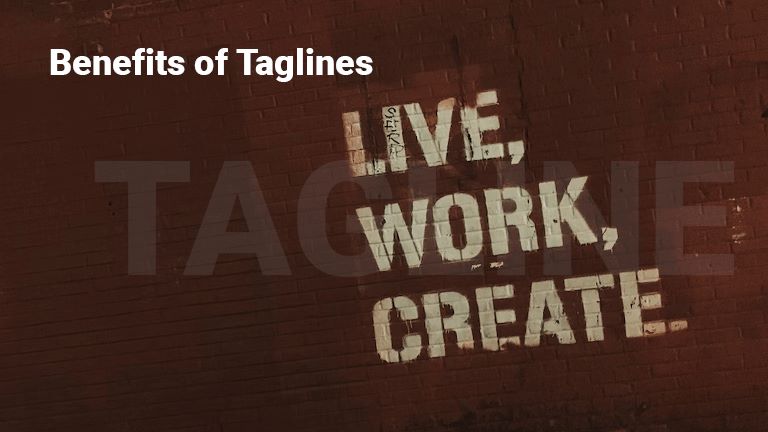 Okay, are you ready to prepare your Business Tagline? Four crucial elements you need to remember while drafting your Business Tagline every time. 
The Vision that You hold in your brand's Business Tagline
Let your tagline share the long-term vision that you have in mind. For instance, if you have a shoe brand, the vision could be sustainable, eco-friendly, and affordable footwear for all ages. 
The Service that You promise through this brand
Being a customer-oriented brand that molds the brand to suit the emerging trends in the industry. To engage with customers, the company has to follow legitimate social media marketing methods thus by living up to what their business taglines talk and grow their customer base. 
The Unique brand feature that you can boast of
If you have one of a kind brand feature, it needs to be known to the world. What is your unique feature? Does your brand use a special type of technology, a mobile app, or a brilliant quality check process? If so, share it with an interesting word. If so, share it with interesting Business Taglines. 
The Customer who you plan to cater to
Now, who is your target audience? Have you created a supplement meant for aged people, youngsters, or diabetic people? Or do you have a mental booster protein drink for all ages? Let the right audience know about the brand in a crisp tagline. A target oriented digital marketing expert will have answers to this. Only if this initial research is done, the tagline can be rightly created. Let the right audience know about the brand in a crisp tagline.
These may look like conventional points that every company would list down during its formation. But when you are dealing with a tagline, you have just 5 words (max) to express these points. That is where your content smartness needs to work.
The right Business Tagline drives the right attention from the right target audience in a reasonable amount of time. If your message or the tagline can communicate, and create a connection with your customers, then it is easy to market the brand across various platforms.
Support your Product Marketing Process
Some of the world class business taglines have been fine-tuned to boost the product marketing efforts of a company. Understanding what your customer seeks in a brand, is one of the most crucial product marketing KPIs that every management team should understand.
How can one identify Taglines and not Slogans? Know the Difference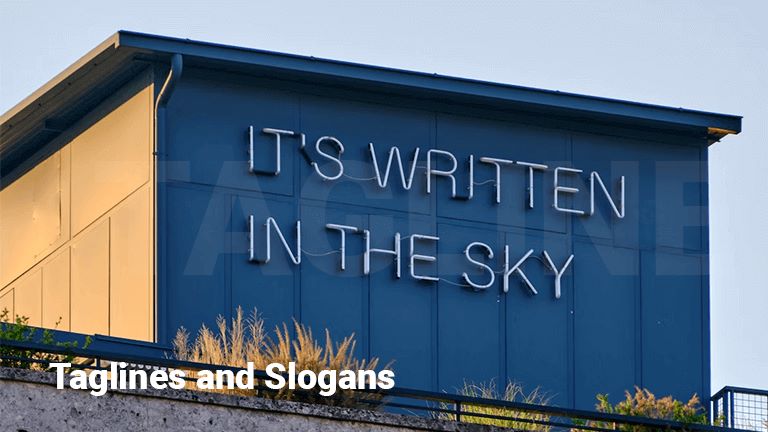 Technically speaking, taglines, slogans, captions, and punchlines all serve the same purposes. It is meant to market the product or service brand. But when you break them down, Business Taglines are the most important and stand at the top of this marketing pyramid. 
Let's just state this with an example. You will have a mother brand for a health product. Under this brand, you have many sub-products to showcase. So, for the company as a whole, the slogan or punchline that you create is called the Business Tagline for the business.
Moving on, each of the products that come under this will have various slogans to market them. Those are slogans or attractive captions. They are not Business Taglines. Only the master or mother business idea will have a business tagline.
Slogans are catchy just like the Business Taglines but will communicate only about a particular product. A Business Tagline upholds a larger perspective of the brand's digital marketing perspective. By keeping in mind all the subsidiary product lines that may be introduced in the coming years, the company can initiate meaningful offline & online, especially social media marketing campaigns to sync with the Business Tagline.
How to draft a good Business Tagline?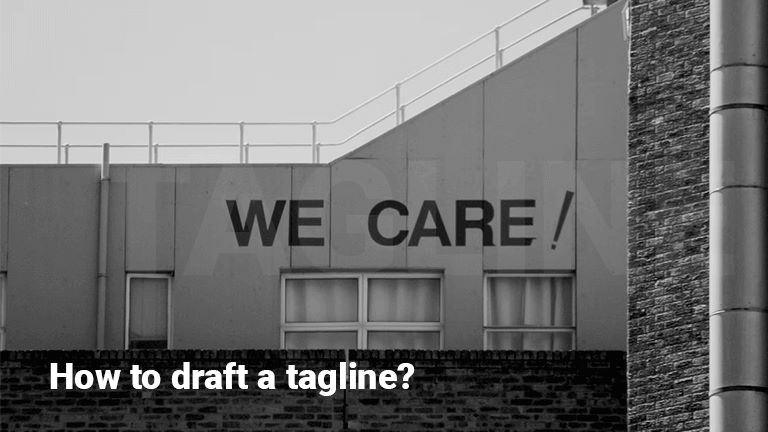 First of all, This Tagline should cover all the four crucial elements that we have mentioned in the purpose of the Tagline. Once you have figured that out, let's brainstorm and pen down all the various taglines you can add to your brand. 
Some of the must-have features that every effective and note-worthy business tagline will and should have are listed below:
 1. Emotional Connection of your Business Tagline
Business Taglines have the capacity to bring on empathy, and that the where you can connect with the end user. Wondering if this is possible. Well yes, and that is where the whole cycle of trust and communication lies in each brand. Let the tagline explain on an emotional note who this is for. Following this, make sure that social media marketing communications are aligned with this kind of emotion depicted in the tagline.
2. Simple Words
We have a product or service to sell and not some aristocratic English or any language for that matter. So, understand that at the other end, your target audience needs to understand what you are trying to communicate. So be simple, and get the point straight across the point. In short, have a business tagline that is quick to remember and relate to in one go. 
3. Crisp and Functional Communication
When it is simple, don't forget to make it crisp too. Any tagline should be understandable to the end user at a glance. That is all about being functional – meaning that you have explained your business essence to the fullest in the tagline. When handling the digital marketing process, the brand will be visible across social media.
4. Showcase your expertise
Taglines are not just meant to entice the onlooker, it is also to exhibit your expertise in this particular product or service. Let confidence and experience wrap your tagline rather than just some fabricated excitement and unrealistic promises. 
5. Short is Better
Remember this is your first impression and that has to last forever. Frame a tagline that is short within just 3- 5 words and that is more than enough. They ought to look cute, catch the eye and have some sense when one reads them. 
6. Trigger the Trend
Trends are short spanned for you, but they have the power and capacity to stay on people's minds for a long time. A bit of digital marketing research will help find the trend that connects with your business. Then structure the right business taglines that look trendy and functional in one go. If you align your research with SEO, then the business will gain more online visibility.
7. Timeless Statement
We can't stress enough, having a timeless tagline for your business is pretty much very necessary. You see a business has been created to last for a lifetime and that means your tagline should speak for you as you grow big and expand. So, make Business Taglines seamlessly timeless so that it connects generations who approach your brand.
What's a 'NO' in a Business Tagline?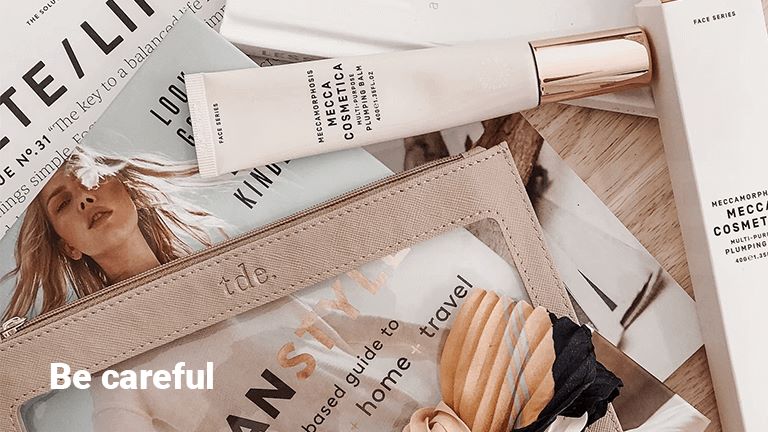 1. Skip the Serious Business Taglines 
We mean it – you need to make an impression, but let it not be so straight and philosophical. Let it be easy on the mind since serious is boring. Use a small business tagline, but let it attract attention.
2. Quit Straying away
Often business owners go in search of unique, striking taglines and it happens to move far away from the original theme of your business. Stick to your business theme however crisp your Business tagline is. 
3. Buzzwords are a deal breaker
Keep your Business Taglines away from the conventional buzzwords that you commonly find on the internet, as they don't always reflect the meaning that you need. It is overused, and the magic in them is overrated. So be original!
4. Business Tagline – Similar to your competitor?
Of course, we know you may have a stray competitor in some corner of the world, but don't be tempted to copy them. It only loses the glam behind your business identity. Keep your Business Taglines original by all means. Alongside, you need to focus on search engine optimisation too, as the right name will market in its one
5. Quit being cute
Cuteness is nice overall, but may not fetch leads when you think about business. The tagline structuring is a tricky one, where you need a smart professional summation of the business, not a cute one – as it may look silly or a  kid's piece of work. 
Why are Business Taglines so helpful? Benefits of Taglines that you can't miss out on!
Experiences often give you the best lessons. A great tagline will have an everlasting effect on the brand and leverage the SEO results over time.. So make sure that is effective and that it works for you! You must be thinking, that we have been talking quite a bit about the good and the bad of taglines and how a perfect business tagline would look. Next, let's understand the importance of a tagline, or how it will benefit a business in the long run.
1. Brand Credibility Boost
Customers approach a company brand when they feel it is worth connecting with. Today to a large extent, digital marketing helps companies reach the target audience via online platforms. This means they need to trust the brand, even before they have used the product. The process would start with checking out your tagline.
When you present a tagline that is emotionally communicative and yet states what the brand is all about – it makes them reassured to associate with you. Once they feel that they can understand the brand easily, that is when the credibility of the brand is established in the first phase. 
2. Business USP is promoted
Business USP is also called the Business "Unique Selling Point" and that is what offers the unique quality to your product or service. Once the tagline specifies this USP, in a very creative manner, then be assured that your target audience will patronize the brand. The communication has to be crisp and clear. If the tagline states the end result clearly, that helps the customer make the decision quickly. 
3. Familiarizing Brand Scenario
Why do we keep saying that the brand tagline has to be short and to the point? It is because of the fact that memory retention is very small in most people. So, present the value of the brand in a few words that keep the audience in focus. The longer the tagline, the more chances you have to go off the point. The shorter, the more direct it is – but with a creative touch. The shorter, the more result-centric social media marketing campaigns will have to be introduced.
4. Being Competitively Superior
Every brand will have competition at some point in time, and that reality has to be accepted. Amid so many advertisements and digital marketing campaigns, it is the tagline that speaks out loud. To beat the competition and to survive up the business growth ladder, the tagline will prove to give you more noticeability and hence make the brand competitively superior.
5. The Recollect Strategy of your Business Tagline
If you have placed a relevant business tagline, this will be enough to keep silently reminding your target audience. That is all you need! For instance, we don't need to shop for shoes every day, but do we ever forget Nike? The same does for KFC and many other brands that practice target proven search engine optimisation methods to build a loyal customer base.. So, if you have a unique tagline, that connects with the audience – even before they have experienced the real worth of your product or service.
Who can Benefit from a Perfect Business Tagline? | Results of Business Taglines
In one thought, it is quite natural that you must have suggested the answer as the Company. We truly agree with you, however, there is another side to the tagline effectiveness cycle. Just like the Company Tagline can be eye-catching, it also connects with customers quickly – if the tagline makes sense to them.
Since it sums up the brand  – It will help the Company to be noticed and also the customers to remember what this brand is all about. Nothing compelling, nothing fancy, and still so very inviting. That is how your tagline will influence all those who are involved and targeted. 
Apart from this, all industry niches will benefit from a perfect business tagline. A Saas Company that works on its Saas Marketing processes will have to ensure that its business taglines are realigned to the digital marketing goals set beforehand. The same rule applies to healthcare companies, fashion, clothing, and much more.
What is the Process of Creating a Business Tagline?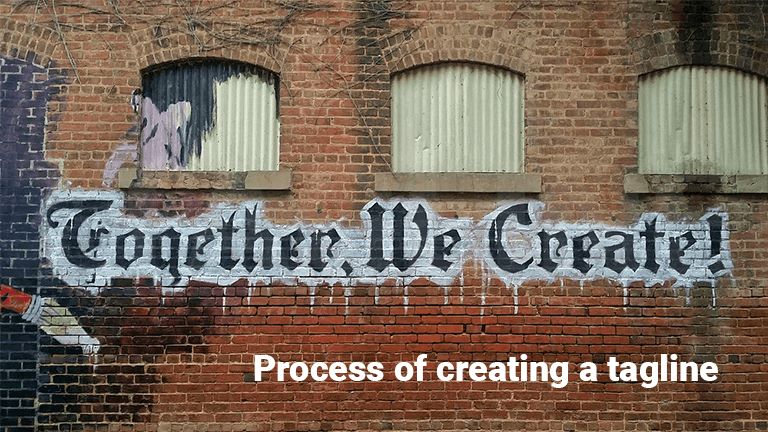 1. Have a Clear Idea
Before starting anything, keep your mind clear and focus on what you really need from your tagline. For this start from the end result – to understand what the outcome of a good tagline should be. For a premium clothing business tagline, you need to exhibit the feel, the source, and who it is intended for in the Business Taglines
2. Be Open-Minded
In order to create stunning Business Taglines, capturing the reader's attention is your goal, so keep your mind open to all extents of creativity. Forget the rules and express the USP of the business in the most unconventional way you can. People love something new and that will form their identity with ease.
3. Brainstorm for Endless Options
If something new and creative has to formulate, that needs a ton of brainstorming. Focus on search engine optimisation in particular & your digital marketing efforts all together and then share your tagline. So how much do you need to do? The answer will depend on you as you are looking for the best business tagline for your business. It simply means – you have to be satisfied and it has to convey the message perfectly.
4. Confused? Browse the Competitors Business Taglines
With so many ideas streaming through the digital marketing process, content marketers are bound to get confused. For ideas, you can always check out the local brands and the international brands that seem to compete with your business concept. Just refer and don't copy them, please.
5. Ask for a third opinion
Once you are done with the framing process, ask for a third opinion. This could be with your well-wishers, your team, your company at large, and so on. A different perspective sometimes helps you identify hidden flaws within a tagline. Be ready to accept and edit them as you move. 
6. Understand if Emotion equals USP
If you recollect, we mentioned that a good tagline should emotionally connect with the audience. So when you have made your tagline, check if the audience can understand the USP clearly. The communication should be trustworthy and that is when the emotional bond comes in. 
7. Fit it in the best one
Only the best ones survive and so choose one tagline that meets the parameters and let that tag along with your brand image. The choices are hard but worth it. For instance, for a photography business, it is optimal to use the best business photography tagline, rather than giving business taglines that are good for events, weddings, etc.
Point to Note: Let your tagline be powerfully inviting so that your target audience can be your biggest word of mouth in the coming days.
Businesses that shot to fame with the right Business Tagline
1. Dunkin Donuts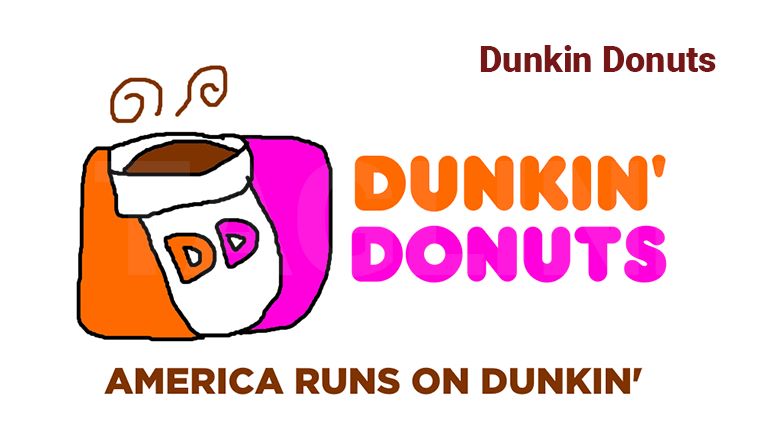 America's favorite donut shop was the sure shot fuel zone for every American who had to start the day and keep going at full energy.  Their tagline: "America runs on Dunkin" was perfect for this, as it meant to run, and do your best every day by starting the day with a Dunkin Donut.
2. General Electric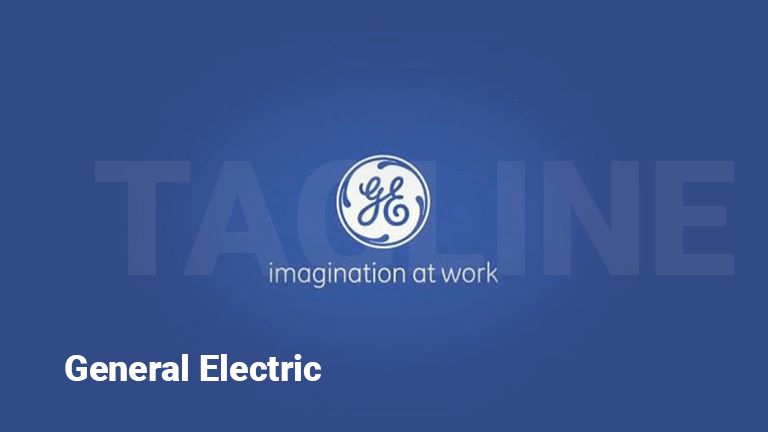 The latest tagline of GE was "Imagination at work" and the previous one was "We Bring Good Things to Life". The tagline was simple, yet it was a catchy business tagline that actually can be remembered.  It means that their work culture was focused on innovation with excellence.
3. Lays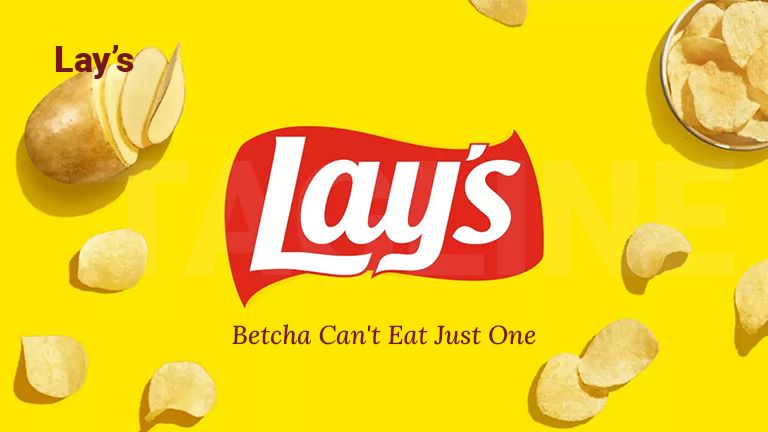 This crispy potato wafer chip Lays has found its way into each of our snack times. They have a fun loved tagline that was true in every sense! The tagline went like this, "Betcha Can't Eat Just One." It's casual, to the point and so creative.
4. BMW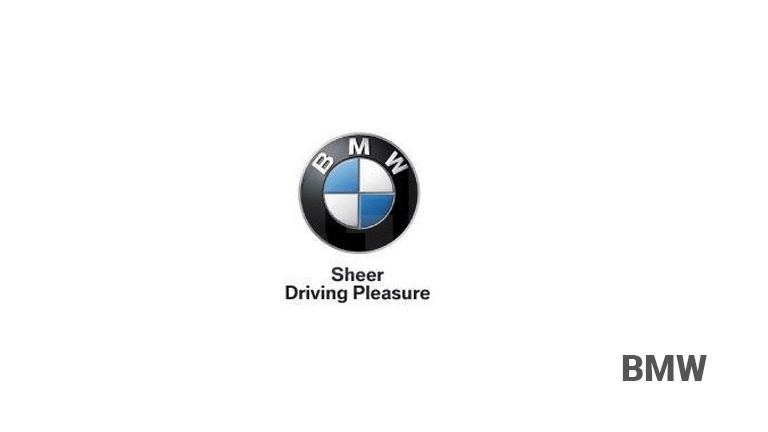 The tagline for BMW has always been "Sheer Driving Pleasure" recently and the older one was "The Ultimate Driving Machine". The short tagline gave the complete feel that thrill, power, and quality are optimal in every drive. 
5. Apple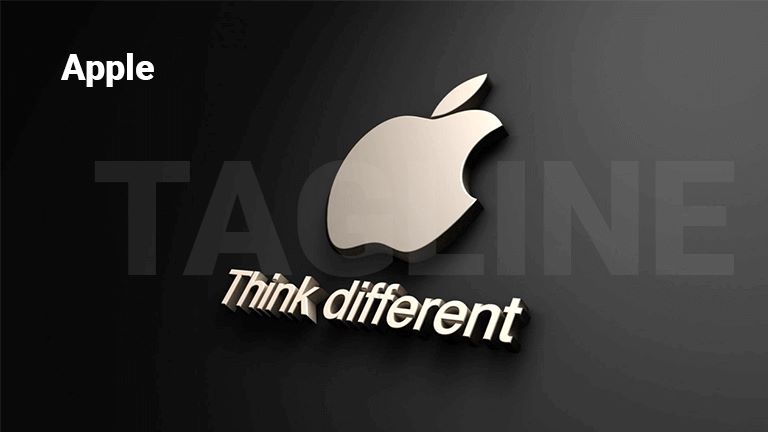 The tech giant Apple has taken over the space of tech gadgets and novel communications with their spectacular tagline" Think Different". Over the years, they have dominated the market with their tech savvy initiatives and their launches are one of the most awaited worldwide. 
6. Ronseal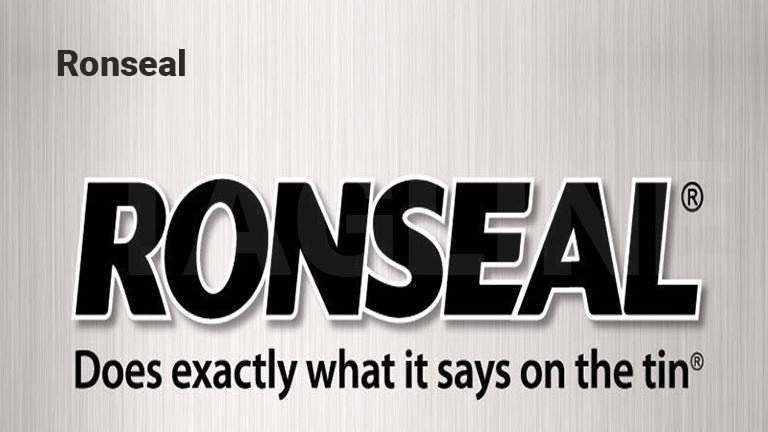 Nothing fancy about this 20 year old UK company but they have framed a tagline that is perfectly transparent and confident. The tagline goes like this "It Does Exactly What It Says on the Tin." and they offer quality in one coat of paint! This is a classic example of strong and noteworthy business tagline quotes that grab attention with no forced effort.
7. De Beers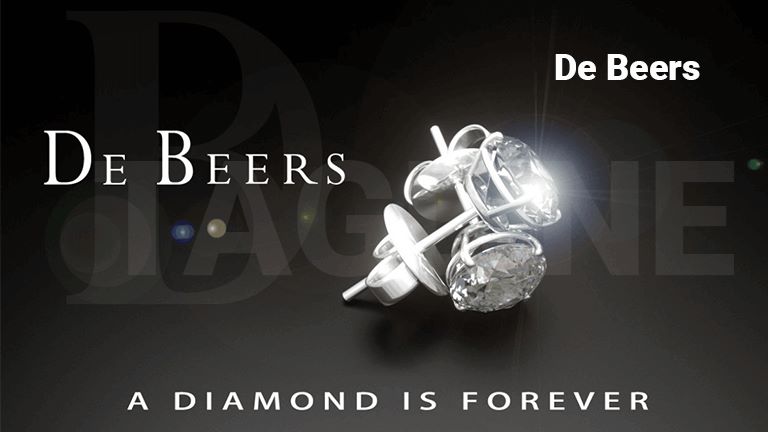 The famous diamond company was known worldwide for some of the most notable diamond jewelry designs that we could have ever seen. The tagline that states "A Diamond is Forever" has indirectly introduced a perception of a diamond and how it has the eternal capacity to be part of the best moments of life.
8. Dollar Shave Club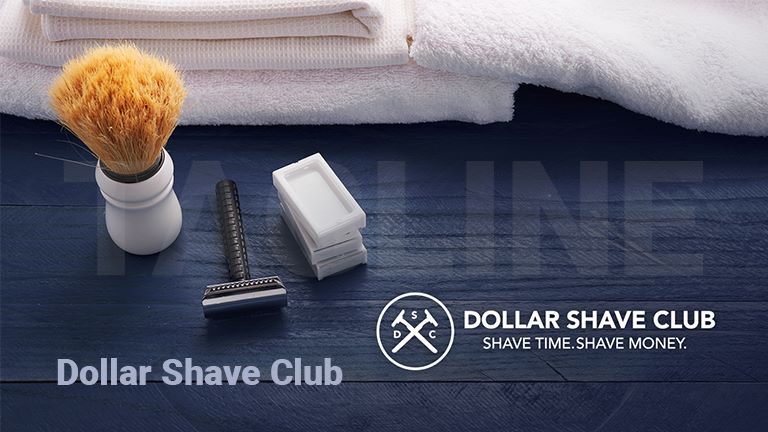 With a pun intended at one end, the company has one of the most noteworthy taglines in history. It goes like this, "Shave Time. Shave Money" and has tactfully brought the idea that this men's grooming accessory will be convenient and cost effective for all.
9. Nike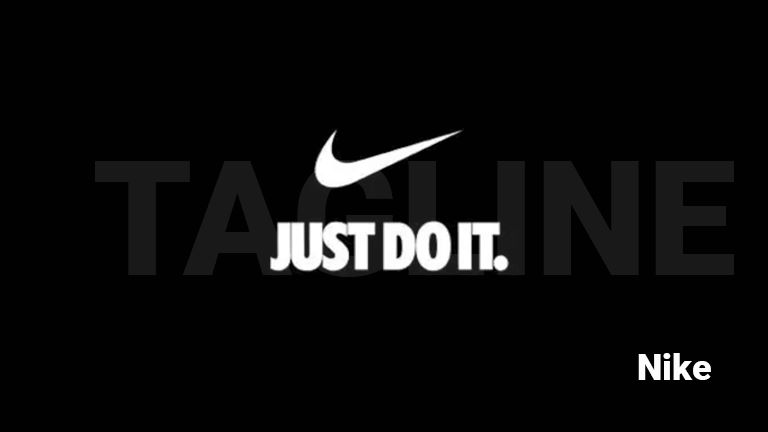 Nike started off as the dream shoes for every sports person and today has included everyone who loves to stride fearlessly in life. Their famous tagline is "Just Do It" which resonates with sports professionals who make their presence felt with their skill, no matter whatever the obstacle. You wear Nike, and go ahead and do your job. This is a classic example of strong and noteworthy business tagline quotes that grab attention with no forced effort.
10. McDonald's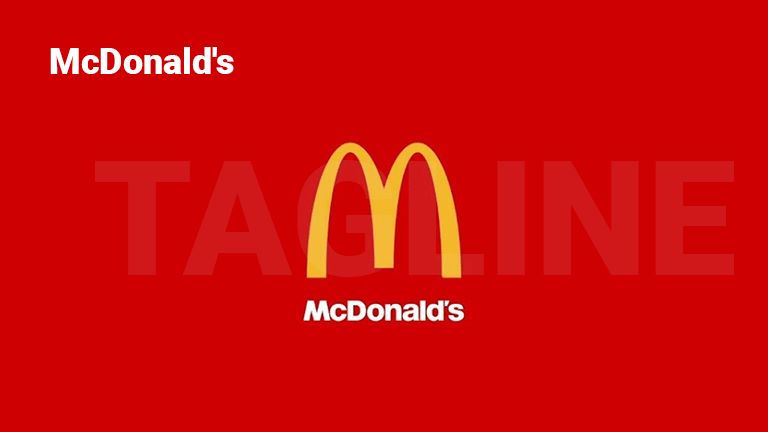 Eat blissfully and have no guilt and they have one of the most well known business taglines for food in today's world. This is what McDonald's tagline "I'm Lovin' It" portrays and you bet they have got the mood on the right track. The jingle sure is memorable and we simply remember such a pleasant tagline.
So, which one is your personal favorite? Let us know.
Let's Wind Up
Here we have covered all the aspects and some of the best business tagline examples that you would need to relate to when deciding upon a tagline. To Sum Up the World of Business Taglines – it is compelling and can have a significant impact on your business and digital marketing efforts. Use it wisely and make your business a reputable concept for people to associate with worldwide. Until we bring in more insights on maneuvering your business with the right touch of branding and marketing – keep our page in the loop of your research.