Marketing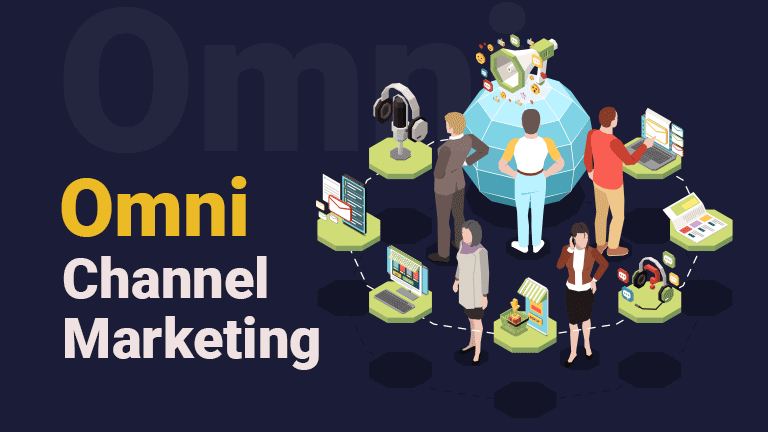 Omni Channel Marketing has transformed how businesses work today, bringing a lot of dynamism into the way people shop too. Companies enforce the perfect omnichannel marketing strategy This is executed at a global level over the internet, enhancing the power of Omni Channel Commerce at all levels and models of business.
Nowadays, almost 87% of businesses are dependent on omnichannel commerce. If you like to know the concept of omnichannel commerce (link to that blog), we have explained that too in detail. Here, we explain how you can use an omnichannel strategy to leverage the online visibility of your company, online store, social media page, etc. Furthermore, omnichannel marketing examples have been also listed to give a clear idea of what happens in the market.
What is Omni Channel Marketing and why do brands need it?
The omnichannel marketing platform can be defined as a new age shopping experience that is unified and cohesive across various sales touchpoints chosen for the brand. As per OmniChannel Commerce, you can have one brand that is being sold through brick and mortar shops, online stores, mobile apps, social media channels, etc. To define omnichannel marketing, we can say that it refers to the internet based marketing process using various methods of digital marketing to build a solid, consistent, transparent, and highly engaging presence for the brand on its websites, social media channels, mobile apps, and offline channels too.
There are huge payoffs when you implement the right omnichannel marketing campaign and also the right omnichannel marketing tools. Brands have started to implement this as shoppers do love this kind of buyer journey a lot today, Now through a sound omnichannel marketing strategy, the company brand management team can build a strategy to advertise their products on Facebook, and Instagram, then guide shoppers in search for particular products in their online store. Furthermore, they can give shopping coupons to shop in their physical store, or online store as per convenience.
Yes, brands need it because:
"With Omnichannel Channel Marketing, Brands can leverage their Buyer Journey in a multi-faceted manner "
Omnichannel Marketing vs Multichannel Marketing vs Cross Channel Marketing
All three are essentially built on the same concept and that is using various sales platforms to build the marketing metrics. But they differ on a very thin factor that every marketer needs to understand.
Multi Channel Marketing
Here, social media platforms, websites, and mobile applications are used to sell the product. But each is operated differently and there is no connection between them. For instance, a handicrafts store will have a physical store, and website, and a WhatsApp Channel. All will function, but under the control of different, teams, different sales offers, and even different target audiences. People who stick to the physical store, will need the touch and choose experience, whereas another group, would like to shop in a personalized online manner through WhatsApp. So, the communications, and sales offers, coupons will be arranged separately.
Cross Channel Marketing
This too includes a lot of sales platforms and only a few platforms can be used together. For instance, a buyer would have made a purchase in the online store and earned a few points. This can be redeemed when they shop in the physical store, but not if they place the order through an advertisement on the brand's Facebook page. Henceforth, not all platforms are linked and customers cannot take the benefits of both offline and online here.
Omni Channel Marketing
The last one is the most futuristic and realistic marketing strategy in today's buyer journey. Here, as mentioned all the offline and online platforms are used together, interlinked. This strategy brings in a harmonious connection that can be analyzed and executed with better control and insight.
Why Omnichannel Channel Marketing is important for brands nowadays?
Let's just understand the importance of using the best omnichannel marketing platform to leverage brand growth.
Unified Sales Experience: The biggest highlight is that – This level of unified business across sales channels, can be monitored and augmented in a consistent manner.
Better Service: Using the right omnichannel marketing tools can ensure that the service is more targeted and result oriented. From mobile payment to COD, to coupons are a few choices to make each purchase more memorable.
Personalization: Today, the power of first party data transfer (link to that blog) allows companies to know what the customers what the shoppers want today. So, omnichannel marketing strategies can bring in personalization and improve the buyer journey.
Data is your biggest mentor: Every omnichannel marketing platform will have a lot of data collected and these analytics can say a lot about variable buying behavior. You can understand which online platform gets the most visitors, most clicks, and most lead generations.
The flexibility of Buying Choice: With omnichannel marketing platform strategies, the brand will be present both offline and online, So, a customer can choose whether they want to visit the store today or order online. If they shift to another place, the joy of shopping from a trusted brand will never stop. Trust and flexibility are part of a successful omnichannel marketing platform strategy.
Features of Omni channel marketing
The Six core ingredients that will help you formulate a good omnichannel marketing customer experience include the following:
Relevance:
It has to be relevant to the target audience. Shoppers want real time experience, quick service, communications, safe payment modes, transparent buyer flow process, and easy to understand shopping history, to have a reliable connection with the omnichannel marketing platform.
Convenience:
With a lack of time, and mobiles at a consumer's fingertips, shoppers opt for convenience. So if they cannot go to their favorite food store or shopping mart, if they can order online from the website or mobile app, that is pure convenience.
Agility:
Keeping the IT products secure, and fast to serve as part of the omnichannel marketing platform's success. So, every company needs to be agile by using the latest technologies, and tools and be updated about the new mechanisms to elevate sales.
Future Ready:
Though people have always loved the brick and mortar stores, life does not always allow people to pause and spend time shopping. So, think ahead, and help people to shop on the go. Attractive offers and better engaging content will always encourage customers to connect with the brand.
Consistency:
This is a very important feature of an omnichannel marketing platform. Make sure that the products are uniformly placed, priced and offers are formulated in a uniform manner. It has to be done consistently on all platforms, as people expect to get information all the time. All consistent omnichannel marketing platforms can survive past the competition and have a loyal customer base.
Buying Empowerment:
To empower your end consumer means that they are provided with plenty of choices. This widens their scope to take the best buying decision and most shoppers love this kind of flexibility.
Pros of Omni Channel Marketing Strategy
Cost Effectiveness:
Digital marketing is not very expensive when compared to offline marketing, However, unless you have a digital marketing expert all the efforts would resemble a gamble. Some campaigns may work, whereas some may have to be a huge viral disaster. In the case of Omni Channel Marketing Strategy, the strategy is backed with data and only a streamlined method is devised. This ensures that the whole plan is more cost effective and campaigns gain better results.
Target User Segmentation:
In the case of omnichannel digital marketing, you can get to understand the target audience, their behavior, expectations, and buying capacity, Accordingly the right social media channel, and the right social media sales strategies will be devised. For example, if you need to increase the sales of your old age care business, you need to reach out through emailers, WhatsApp, and Facebook. The viewers will be children who are above 45+ years. So, keep your communication very crisp, emotional, and simple.
Improved Brand Visibility:
Here you can use many channels for sales and that increases the brand visibility eventually. When the advertisement is placed on Google ads, Facebook, Instagram, and Twitter, the number of people who view it will be much more than the ones who see your physical store.
Data Analytics Support:
The biggest benefit of omnichannel digital marketing is that it gives a report of the data analytics. So, you know who is visiting your website, mobile app, and other platforms. Accordingly, the strategies can be devised and aligned with the business goals.
Improved customer behavior study:
Since you can see the data analytics, you know the type of people, the age group, the amount of time they spent on the platforms, etc. This shows what attracts them and where they seem to bounce off.
Manage all channels under the marketing department:
If the multi channel was about scattered management of the social media channels and offline stores – here it is all under one huge umbrella of marketing.
Accomplishing and leveraging sales goals:
When you have planned many marketing strategies in the omnichannel marketing platforms, it means that efforts are not through one stream, but many, Naturally, that leads to better leads, more sales, and more profits in a short period of time,
Cons of Omni Channel Marketing Strategy
Lack of focus on all channels:
If you are not sure about how to work on omnichannel digital marketing, then you will lack focus on the omnichannel marketing channels used. That will cause the whole effort to be incomplete and disoriented.
Forgetting about elevating offline stores' shopper experience:
Mostly when companies focus on online streams like Facebook, Pinterest, Snapchat, TikTok, etc, then forget how to improve the physical store. That reduces the first impression of touch and feel experience.
Not understanding which channels are suitable for the brand:
To understand which channels to pick for the brand is a big problem. A motivational speaker will need more online platforms, but a physical store is an absolute no. Then you have a wellness clinic, and the physical store is needed and an online medium can only be used for consultation and online purchase of products.
Use Cases of Industries Using the OmniChannel marketing platform strategies
Healthcare
One of the slow, yet upcoming trends is omnichannel marketing in pharmaceutical industry and this has the capacity to help millions of people who need medical attention at the right time. It helps people to fix appointments on the website, get health tips on their social media feeds, have a video consultation as they travel, and even meet face to face at the hospital.
Travel
Gone are the days when your customers step into your office to book a flight or a cab. They would love to rather book online, choose the dates and timings, and also the accommodations as per their convenience. Using Digital brochures, travel companies can add more customization to the entire travel journey. Plus, with omnichannel, marketers can use SMS, emailers, and social media reminders about a flight, or even give a one year reminder about the trips the client has made in the past year.
Education
We all may have the biggest multichannel education ecosystem during the pandemic. However, with study wizard companies, Byjus changing the way knowledge is imparted today. For education, you can enroll the child's registration id on the school or institute website. That would bring you to the student dashboard. This will give information about their reports, sports and arts performances, etc. Using emailers and social media, awareness topics can be shared with the concerned parents and students. Parents can request to pay fees via the website without going to the school as such.
Banking
Financial products can easily be accessed and marketed through omnichannel marketing platforms. They are one of the most realistic omnichannel marketing examples that the world has witnessed today. Of course, FMCG products are on a roller coaster ride in this field, People can use the bank website and mobile app, and avail of many shopping offers through various coupons that are being shared online. Customers can receive newsletters and advertisements about new schemes and loans. Plus, if they have any payment reminders, this can be alerted through automated calls, SMS, social media personalized messages, etc.
Telecom
Using omnichannel marketing ppt and other awareness modes, customers can be made accustomed to the online bill pay modes, choose plans, recharge the caller id, receiving notifications and alerts on various aspects. The sales are quick as people take action when the entire buyer journey is at their fingertips. It builds revenue by about 25% when such engagement comes in. People love to switch their buying decisions on the spot as the whole omnichannel explains the options in a few steps easily.
Food and Beverage
The F&B industry is one area that never ceases to fall. People love to try foods on the go. You can connect and engage with people via WhatsApp, Facebook, mobile applications, and website, instantly. People can order online and go for a curbside pickup. They can even use their redeem points when they want to eat at the food store. You can give them special cookie points for shopping frequently.
Omni channel marketing Transition
Is the Omnichannel Channel Marketing Transformation to Phygital Marketing happening?
Digital:
Well, the online retail shopping experience started with digital platforms. Here you could share your products on your Facebook, Instagram TikTok pages and get orders. You need not have a physical store, or website to do this kind of business.
Multichannel:
Then the offline, physical stores decided to use digital platforms. So, here multichannel strategy was used. Accordingly, the company was being sold in their offline store, on social media, on their mobile applications, and so on. Each channel was managed differently, the branding themes varied and the pattern of sales also changed from one platform to another. This was kind of hectic to manage.
Omnichannel Marketing Platform:
The lack of consistency and control in Multichannel gave way to OmniChannel Commerce. Here, every platform used for the brand – be it offline or online – was brought under one system thereby delivering a fluid-like shopping experience across channels.
Phygital:
Now the latest has moved to the Phygital era, which is an upgrade of OmniChannel Commerce. Here there is a symbiosis of the Online virtual space of marketing and the Physical, offline space of marketing. Using smart omnichannel marketing tools, people could check the physical products in an offline store. Then once satisfied, they could buy the same product from the brand's online store too. That has combined the physical and digital shopping experience in one concept. However, this is still taking shape.
Omni Channel Marketing Trends for the Retail Industry
Well, it is time for Omni Channel Marketing and Omni Channel Commerce to slowly move over, the Phygital Era is showing its prominence. Let's see the Trends of the omnichannel marketing platform and join the omnichannel marketing bandwagon of marketing strategies this time.
OmniChannel Retailing
Retail shopping has always been a delight for consumers globally. With omnichannel commerce, a more prominent business – The omnichannel retailing model is gaining prominence. This is a mix of in store shopping and online shopping. For instance, in a Reliance store, you can see the same offers in the store and also on their mobile app. So even if the consumers shift tomorrow to another residence, they can avail of their shopping points or offers with ease.
Brick and Mortar Shopping going uphill
It's a fact that everyone adores the touch and feel shopping experience. You get to know what you will be buying for sure. It's transparent and immediate sales take place. Over the years, people have loved online shopping, but high end products will always be shopped in physical stores. So, when you are handling your omnichannel commerce, never forget to leverage the buyer shopping experience in your brick and mortar store. If given a chance, 75% of your customer would love to visit the place for real. This increases customer retention like no other and should be part of omnichannel commerce marketing strategies.
Phygital Omnichannel; experiences
As the same suggests, it is a blend of using digital business concepts and the physical store concept of sales. If you have experienced curbside shopping and AR based shopping, then that is part of the transition for various companies. For instance, IKEA uses AI to help people arrange the necessary furniture in the home space and then make the choices at the physical store. It can be also done vice versa.
Influence Selling
Today social media influencers have a silent role in helping people make a buying decision online. They promote stores, services, products, and personalities through their channels. Today brands collaborate with Social Media Influencers like Kim Kardashian, Leo Messi, Virat Kohli, and various actors and prominent personalities. Since they do have a consistent follower base on social media, it will be easy to convince their followers to try out a new product.
Social Media Selling
Next, the scope of social media selling is pretty unimaginable. Today, companies can add awareness videos, posts, and tips on social media. There are many small scale companies that sell purely through social media. All they could be having would be a small warehouse and minimal workers to get the sales going. If your product gains popularity, it will be shared and go viral without any investment, This is done by loyal customers.
Contactless Purchases
People love the convenience attached to the reality that they do not have to carry money with them as they travel. Today, whether opt to buy from the physical store or the online store, they can pay through net banking, credit card, and various UPI modes, This means no handling of money and quick and transparent transactions. So, this way, your business is done faster.
Online purchase with in-store pickup facility
This is also called BOPIS in marketing and holds a lot of the importance of omnichannel marketing. Here, you can place your orders online and then pick them up from your nearby store of the same company. You could have realized in the morning that your stock of granola was over and you ought to get to the office. So, step into your Walmart e-commerce store, place the order, pay online, and fix a time for delivery at a location near your office. So, shopping is done right, and you can skip that queue at the store! Still, you are able to pick it up in person.
In-store purchase with home delivery facility
Now, the next one is what we all are well accustomed to doing during the 2-year pandemic phase, Sit back in your pajamas, order online, and get them delivered to your home doorstep. So convenient, skip the roads, skip the time waste, and keep your life moving smoothly. It is particularly useful when you have huge home appliances like washing machines and furniture to purchase.
Online purchase with in-store return facility
Customers always love to have that personalized customer service. So, they could have ordered online, and if there is a facility to return the product – that would be greatly appreciated. More than 60% of buyers always would like to go to the retail store and interact while returning defective or disliked products,
Personalized Omnichannel retail marketing
Customers do enjoy personalized marketing always. This means that when a customer visits a website or a mobile app, the searches are saved through the algorithms. Later on, as part of omnichannel marketing, the same searches can be highlighted and sent across through emailers and as advertisements when they visit other websites. This becomes easy, they reduce the search time and convert it into prospective sales.
Location-based omnichannel marketing
This is a new and relatively personalized way of omnichannel marketing. Take a situation, when a person is visiting a new place and the Starbucks app would alter the place about the nearest coffee shop. The same goes for logistics apps like Uber, which reveal cabs available in the area. This is all based on the location shared by the smartphone.
Growing Response to Virtual Shopping
Replicating the in-store shopping experience can be fulfilled by a sound virtual shopping experience. This system uses AR, users can virtually try our things and see if it fits them. This can be done by adding your image and using the "try on" feature. It is highly engaging and has been welcomed by people who tried such experimental omnichannel marketing strategies. This is said to yield about a 94% sales conversion rate.
Fewer cookies and more first party reports add value to customer communication
Today, cookies are dwindling from all websites. So, how would websites bring forth more meaningful searches? This is why the first party data transfer will help., Under this scheme, users give their responses willingly and wait to see the suggestions given by the online website, or mobile app. So, they engage positively with a mindset to be a long term customer of the brand,
Dependable Warehousing and Logistics
One of the biggest trends that businesses would have to pay heed is the maintenance of dependable warehousing and on-time logistics systems. In case, customers see an Out of Stock, they may ask for a notification or even stop the shopping process. So, keep your sticks filled and earn more happy customers.
Customer Engagement Centric sales
Fine tuning sales to match customer interest is an upcoming trend. For instance, you could give special offers on their birthdays, or a discount coupon for being loyal customers for the past month. Small things can keep your customer happy.
Omni Channel Marketing Strategy Examples
Nike
One of the biggest brands that have transformed through each type of marketing is Nike., Today, they follow the Phygital shopping experience that is a step ahead of the OmniChannel Marketing experience. Nike has opened stores in Los Angeles that resemble pop up stores. Products are placed on display, where they can be tested, felt, and booked. There are various rewards for in store purchases, testing a product, making a product return, and buying the product online through their mobile app or website. They have been using the best omnichannel marketing campaign to build continual customer engagement all over the world. Furthermore, unlike multichannel marketing omnichannel marketing, brand sales, offers, and products are consistent across all their sales channels.
Why does the Nike omnichannel marketing strategy work?
They have created a compact, and highly user friendly example of omnichannel marketing whereby a multitude of marketing channels are integrated to build a seamless customer connect and consistent sales.
Starbucks
We all know where to head for a cuppa of stunning coffee. Keep the over-hyped rates, this brand does know how to trigger customer satisfaction, loyalty, and the ambiance experiences to the maximum. They have imbibed the concept of omnichannel marketing with their Starbucks Rewards App. Every time you purchase, you obtain a free reward. This will be updated in real time across every channel you use. So, you can see your latest reward count across the app, the in-store counter, the website, and your smartphone. Quit waiting at the counter for an update and get your order in minutes. If you need to add more cash to your online wallet, do so with a few clicks. All can be done in a few clicks before you head to the store. Once the cashier checks your customer id, the order, and reward update will be displayed.
Why does the Starbucks omnichannel marketing strategy work?
So far, they have understood customer behavior very well and made sure that the mobile shopping experience should have the biggest focus. The concept of a hassle free refreshment on the go with a few clicks, coupled with engaging rewards never fails to impress the Starbucks customers.
Uber
The company has brought in a lot of innovative changes to the simple car ride experience. You step into the Uber app People can book a ride, choose the destination, the type of vehicle, price rates, avail discount codes, plan trips with friends, order food on the go, etc. You can use the Mobile app to enjoy the omni channel customer experiences from the same device.
Why does the Uber omnichannel marketing strategy work?
It has understood the various elements that could make a buyer's journey much more pleasurable. So, apart from a smooth ride, a traveler can do so many things on the go, connect with other apps, and get work done on the go.
Ikea
Another fine example of an omnichannel marketing strategy is Ikea. They have in store shopping, mobile applications, Google Ads, and AR based shopping to keep their customers engaged and always in the loop of conversations. They have in store catalogs and digital store catalogs where, people can check, consult, compare, and then place an order. Home deliveries are done in certain areas and they have given special bonus cookies to those who opt to pick from the store itself. With a live chat session, they have brought personalization into the mainstream of work, enabling quicker leads and high customer satisfaction levels.
Why does the Ikea omnichannel marketing strategy work?
They have blended the offline and online omnichannel marketing efforts so well that people hardly feel the switch between each platform. The company has used the data analysis reports well to understand how customers would like their furniture designs to be.
OmniChannel Marketing Glossary
| | | |
| --- | --- | --- |
| Name | Meaning | Purpose |
| BOPIS | Buy online, pick up in-store | Type of OmniChannel Marketing Strategy |
| | | |
To Sum up the opportunities of omnichannel marketing
The beauty of an omnichannel marketing strategy does not lie just with the concept, but with how well it has been infused into the business sales workflow. The most complex part will be the management and if you can manage all the channels simultaneously, then your customer experience will be one of a kind. If you have read an example of omnichannel marketing, it shows how they help customers at every phase of decision making to convert a lead into a sale.
The whole boon of adopting omnichannel marketing is the innovative way of personalized customer experience.
You can create a result centric omnichannel marketing strategy:
If you do your research well
Find your target audience and which channels they usually spend time in
Formulate a segmentation strategy to allocate shopping personalization in each channel
Understand the kind of communication they wish to experience
Using good quality omnichannel marketing software to keep track of your data.
For the final say, remember that every touchpoint is valuable for your end consumer. So, personalize it, add value to it, and see how an omnichannel marketing strategy can bring in better sales to your table.