Business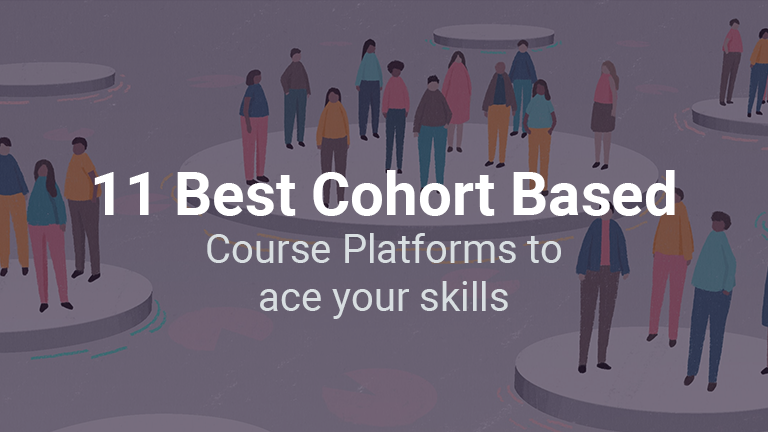 Introduction
Learning a new skill is always the best way to upkeep the competition and stay in the employable perfect category. It is known to be one of the best investments that we can do at any time and any age.
Do you know the latest educational revolution on Online Courses? Well, online education has got a makeover and now this new dimension is called Cohort-based courses or rather the CBCs. It is interactive, group-based, and has received some notable fanfare lately.
So if you want to join the education bandwagon on the internet, then get to know the changemakers in this Industry.
What is a Cohort-based course?
Cohort-based learning is gaining attention over the past years and instructors can impart knowledge without spending too much effort, time, and investment in software infrastructure.
So, What is a Cohort Based course meaning?
These are well-researched self-paced virtual courses in which students enroll, study at the same time as a group, and complete the courses together. The classes are taken via Zoom or probably any other convenient mode of teaching for the instructor and the students.
Why is a Cohort Based Course different and beneficial?
Well, online education has made a lot of transitions over the years, and today learning experiences are given importance more than knowledge. So, let's see why everyone should experience Cohort Based Courses or Cohort Based Platforms. Below we have listed 5 Takeaways of a cohort-based course and read on to check the platforms that provide them
5 Takeaways from taking a cohort-based course
Accountability & Valued Connections: Students in a group can enjoy self-paced classes, but will unconsciously be pushed to completing sessions on par with their group. You get an opportunity to meet new friends and establish a healthy valued relationship with everyone in your cohort.
Community-Based Teaching: The idea is that you are not alone, and it provides a protected group where peers celebrate the wins and help beat challenges together.
Positive Feedback & Interaction: The concept of studying alone has been changed to studying with peers of the same motives and positive interests, timely feedback, and will not leave students stuck at any phase.
World-Class Content: The content is curated to help students brainstorm, have interactive sessions, and engage in an active question-answer round pattern during sessions.
Student Transformation: Students feel confident to interact with each other, as they are not threatened by targets for the project submission or competitive marks. The goal is to enable intuitive minds to discuss, interact, help and master the course within a virtual platform.
It is a class, but a virtual class where students join the class together
Founder : Eren Bali, Oktay Caglar, Gagan Biyani
Founded Year: 2009

Description: Udemy has formulated an online educative marketplace where instructors can teach; and individuals, companies can transform their lives by gaining skills and moving closer towards their professional excellence.
Features of Udemy:
It can be accessed on mobile, laptops, and desktops.
Lectures formats: Videos, Test, quizzes, and audio lessons
Instructor publish notes, QA session, give reviews and announcements
Students can search the marketplace based on any category
They can choose instructors based on reviews and feedback about the instructors.
Instructors can upload free and paid classes by meeting the quality standards of Udemy
Udemy rewards instructors as per their revenue sharing plans
You can get to hear the scope of cohort-based online learning straight from the founder Gagan Biyani as he explains the future of it in the global marketplace irrespective of the changing times.
Pricing:
Every instructor-led course has a base price and it will be displayed in different currencies. They also have a global tier matrix that showcases the maximum and minimum price lists based on the market conditions.
Benefits of Udemy:
If you are thinking about whether Udemy courses are worth the money, we have the answer:
Lifetime Access to the content: Yes, whatever course you purchase from Udemy, is accessible for a lifetime,
Self-Paced Learning: No one to push you around, and you can improve skills whenever you feel like doing so. You can revise, replay, and chat with peers and instructors as you learn.
Public Reviews: Students can choose a course based on the ratings of courses, as the platform is very transparent. Reviews on instructors, the number of training hours, and content highlights will be mentioned.
Certifications: Udemy Students can earn certifications for the courses
Founder : Filippo Schiano di Pepe | Founded Year: 2021
Description: Teachfloor focuses on better learning experiences, by facilitating Zoom cohort cohort-based courses platform for students on various lines of thoughts and skills. The easy-to-use software enables instructors to use the right tools to monetize their expertise and build their student base virtually.
Features of Teachfloor:
Student Reports can be tracked with proper analytical insights, helping students know how they perform
Systematic Cohort based courses(cbcs) upload lessons, schedule sessions, and have a definite timeline for the course
Regular updates on classes can be announced by instructors, thereby helping students to schedule the study pattern every day.
Peer Discussions are encouraged so that all the students can understand and feel skilled and confident by the end of the course
Instructors can review, guide, and schedule assignments for their students and also keep track of their responses and performance.
Extensive reports of students are prepared with analytical tools as it helps instructors know what and how to teach. Plus, it helps students to understand what needs improvement.
Effective Zoon based classes
Secure and seamless payment options with Stripe Integration
A reminder email automation system is activated to remind students of the classes
Instructors can track their business with an analytics dashboard
Pricing – Charges starting at $50/month
Benefits of Teachfloor:
Online Boot camps: Practitioners can organize boot camps with ease and be accountable to students
Support" Continual 24/7 support is available from the team in case of any issues faced by visitors
Build Academy: Academicians can build their open courses, go live and promote their brand
Backend operations Managed: From booking students to managing payments via Stripe, the business will be hassle-free
Automated Reminders: Email notifications are automated thereby ensuring hassle free professionalism.
Founder: David Kofoed Wind | Founded Year: 2015
Description: Eduflow is an e-learning platform that emphasizes collaborative study paired with regular feedback for students. It empowers instructors to provide interesting learning experiences, more student engagement, and knowledge retention.
Features:
Simple software system where instructors can sign in and create their first course
Great customization tools to edit content, images and enables easy file uploads
Peer Review enables students to review other students anonymously, enabling useful feedback
Learning designs are intuitive and not the conventional classroom
Extensive analytical tool to monitor learners performance
Professional Learning Management Systems that provide learners personalized learning experience and privacy.
Pricing: Freemium, charges starting at $100/Month
Benefits of Eduflow:
Collaborative learning: Learning together is possible in Cohort online learning styles
Engaging learning sessions: Active learning systems ensure lessons are engaging with online discussions and intuitive thinking
Pere learning: It enables students to share knowledge with peers and also give their feedback about each other
Confidence: Peer Learning boost confidence and knowledge retention helping students know their strengths and also where to improve
Course Completion: Cohort type study pushes peers to study, focus on studying as per the schedule.
Accountability: Since feedbacks are provided in collaborative learning, students take responsibility to do their best and also teach peers as that will be reflected in great feedbacks.
Source: https://www.ycombinator.com/companies/eduflow
Founder: Ish Baid | Founded Year: 2019
Description: Virtually is a platform that hosts live online classes through small cohorts. It gives attention to the instructor and student learning experience on one platform.
Features:
Hassle-free student registration
Convenient Payment processing
Attendance tracking and evaluation
Extensive library to research and study on various niches
Cohort based Zoom classes
Timely grading and feedback for students
Pricing: Charges starting at $50/month
Benefits of Virtually
Small Cohorts: Since the groups are small, they are manageable.
Synchronized working: Classes, projects, and schedules are managed in a synchronized manner
Troubleshoot: Quick attention is given to students and also to the instructors.
Intuitive Classes: The learning experience is of high quality giving instructors and students a healthy bond, confidence, and emergence of intuitive thinking.
Founder: Gagan Biyani, Wes Kao, and Shreyans Bhansali | Founded Year: 2020
Description : Maven is a platform that shares online Maven cohort-based courses to create a learning community where people can learn any course from anywhere.
Features:
Time-bound online classes conducted in cohort-based courses
Formal system to check the quality
Balances performances of instructors and students
Self-paced classes where students are given goals to fulfill.
Pricing : Charges missing
Benefits of Maven:
Simplicity: The ease of use of the platform is beneficial for community learning
Career Intelligence: Courses are designed to leverage skills and create sustainable employment
Transformation: Case Studies, Interactive studies transform the intuitive thinking in students
Founder : Candice Faktor, Chris Sukornyk | Founded Year: 2020
Description: Disco focuses on passionate content creators who would like to host live learning experiences in cohort-based workshops, courses, discussions, thereby branding their expertise and paving the way for entrepreneurship.
Features:
Remote teaching platform where learners and educators interact in small cohorts
Simple to use tool helps creators invest time and knowledge into this system
Live communities enable learners to have innovative and engaging interactions on various courses
Pricing : Charges starting at
Benefits of Disco:
Sustainable learning: Formulating online learning courses that could meet industrial demands
Fully remote management: It is open to a global marketplace where people from around the world can impart knowledge.
Founder: Mark Fletcher, Paul Jones | Founded Year: 2011
Description: Cohortgo is a technological platform that focuses on helping International students learn courses via a cohort-based courses platform. This can streamline their career without worrying too much about traveling to new countries to get educated.
Features:
Global workforce comprising of expert instructors who create tailored courses
Proactive case management teams
Connects the educational enthusiasts under one platform
Convenient payment modes for students as they can pay in their currencies and not worry about transfer charges
Pricing : Charges starting at
Benefits of Cohortgo :
Streamlined Sessions: The Cohort based courses are systematic and cater to give students
Cloud-based teaching: It ensures that there are no downtime and students can access the courses 24/7
Secure Payments: Enables students to pay their fees in a simplified manner in their currency.
Founder: Mike Silagadze, Mohsen Shahini | Founded Year: 2009
Description : Tophat is a cost-effective, interactive platform where educational materials are created to engage students and make learning an active experience rather than conventional offline classes or even the usual online classes.
Features:
Sound technical assistance is given to teachers, institutions, and students so that learning can be seamless.
Flexible learning options can be chosen as per the requirements of the students
Top scholars teach with a commitment to enable students to attain the right skills
Data-driven insights help the community improve the performance
Certification programs are also provided
Presentations are lively, with videos, GIFs, and 3D images and that brings students to the classes.
Pricing: Charges starting at $30/month per student
Benefits of Tophat:
Real Classroom experience: With tailored sessions and excellent faculty, the learning experience is engaging
Dedicated support: One to one attention is given to students thereby helping them active and get connected with other peers in the cohort baked course
One platform: The community can host discussions, presentation, assign quiz, interactive reading session and even conduct tests and give feedback on one platform
Founder: Joab Rosenberg and Tzvika Katzenelson | Founded Year: 2015
Description : Ment is the new age of bringing AI-driven online learning discussions into the mainstream of learning cohort-based courses platform
Features:
Open conversations between educators and students to leverage their knowledge
Educators can customize classes for the whole cohort class or individual students as per needs
Scores are calculated with AI-driven algorithms to evade bias and human-made mistakes
Analytical dashboards to know progress and improvement reports
Discussion highlights are updated continually
Pricing : Charges starting at $99 per month
Benefits of Ment:
Student Accountability: Student engagements, progress reports, discussions help students to be accountable for their actions, to interact and complete the course along with peers.
Innovative Collaborations: Educators & students get involved in creative thinking, driving more self-learning sessions
Student Pass Rates: Since the students' voice is considered, celebrated and reports reflect their progress, the students' retention rates are high, and willingly love to be part of the cohort-based study patterns.
Founder: Guilherme Coelho | Founded Year: 2019
Description : Classcamp is a mobile-first CBC platform ideal for informal learning (hobbies/passions). This Cohort online learning platform aims to make learning any skill fun, social, interactive and there is no shortage of content to learn and excel upon.
Features:
Interactive classes are promoted between peers in the cohort and the educator
Any niche and any skill is taught here on the platform
The focus is on selling your expertise and not mere knowledge extracted from books
Prerecorded classes are prepared for self-paced sessions
Assignments are made to ace the skill and asses their progress
Programs are modulated and monitored by the Classcamp team to help educators divide the expertise into various teaching sessions.
Pricing : Charges starting at $
Benefits of Classcamp:
Excellent online learning alternative: A calculated shift of learning skills apart from YouTube and TikTok.
Diversity: Any niche can be taught on this platform, from quirky to innovative ideas will find an audience if you are ready to impart the knowledge
Win-Win: Both content creators and learners can win from this connection, as you build your teaching brand, and students learn a skill in an informal style with no academic pressures like the conventional courses
Interested communities: Your community will be more of fans who would trust your skill to help them also leverage their talents and lifestyle.
Founder: Fatima Rizwan | Founded Year – 2018
Description : Airschool enables content influencers to share their expertise and earn revenue from their cohort online learning courses. The platform helps creators attain financial freedom by launching their expertise-intensive knowledge-sharing brand and business through such courses.
Features:
Creators do not have to invest in setup fees, cancellation fees, customer support fees, and subscription fees.
Transparency is the highlight of this learning cycle
All in one Free Toll is given to creators to make engaging courses
Personalized content that reflects the expertise and preference of the students is given importance
Brand development and a fully integrated Instructor page will be easily set up.
Slack based communities are created to drive in more students to the brand
Automated emails will be sent on behalf of the Instructor by the platform
Certificates will be issued to your students
Safe payment processing methods have been enabled
Continual support for the instructor, the team, the learners as a whole during the course
Pricing : It is a revenue-sharing model where creators keep 80& of revenue, 5% for payment processing, and 15% is kept with Airschool
Benefits of Airschool:
Branding: An up to date branding process will be enabled from the time creators design a course on the platform
Cost friendly: No hidden charges are involved for creators to join and set up their courses and payment processing.
Revenue sharing: With 80 % of the revenue given to the course crater, most trainers can earn a sizable income for their efforts.
Easy system: The tools are user-friendly and completely free.
Description – Shopify for Course Creators. We make it easy for experts to create, sell and scale (async + cohort-based courses).
Hey, have you read all of the cohort-based learning platforms?
Great! It shows how focused you are on your dreams! If you are a creator, or a learner waiting to ace up your skills, then you can be part of one of these platforms.
Don't let the pandemic make you wallow in unsure waters. Get your skills upgraded and grow up the career line in a steady manner. If you have an expertise that the world needs to know, create a course, monetize it, and make it a brand from today.
All the best!