Marketing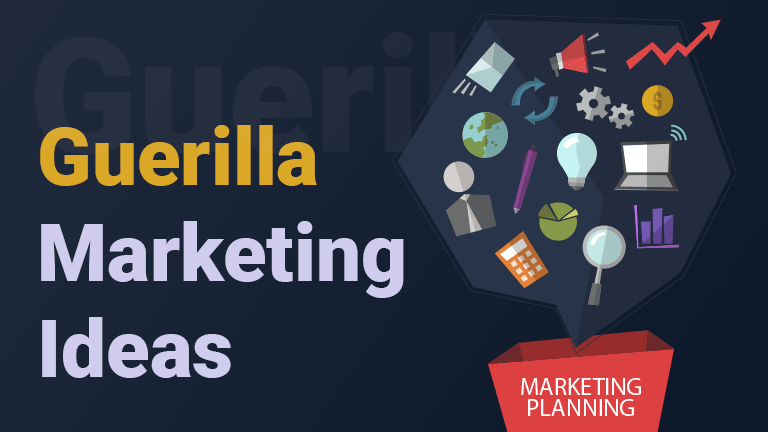 Marketing is truly a job that ushers a lot of creativity and brainstorming. We all have seen the era of Traditional Marketing, where at a point ads seem to strike a boring note. That's when companies wanted to be noticed phenomenally – not for a generation, but for a lifetime.
Then the concept of Guerilla Marketing was brought to shape. Today, it is a blend of offline and online marketing, capturing attention by all means. Marketing Teams of many Fortune 500 companies have tried to crack this nutshell. However, this is not easy.
If you want to be tomorrow's Buzzword in the world of Marketing, here's everything you need to dive into this power-packed marketing with ease.
Table of Contents
What is Guerilla Marketing?
Why use Guerilla Marketing?
Elements of a Good Guerilla Marketing Campaign
List of Guerilla Marketing Ideas and Examples
All About Guerilla: Concept, Marketing Ideas, and Real-Life Examples
What is Guerilla Marketing
Guerilla Marketing is another form of marketing, whereby strong, direct, and highly creative online and offline techniques of marketing are used to attract a huge wave of attention. It does not have highly futuristic or expensive but should be impressive, and impactful, and turn heads with 100% Wow feedback.
Guerilla Marketing is a relatively new technique, also sometimes called Guerrilla in certain places, Just like you would have visualized Guerilla warfare in the past, this is a fast and super powerful mode of marketing,
Be inspired to thrill and magnify the entire business concept strikingly. For those who love to be noticed massively, we have added great inspiration cookies for your guerilla marketing project.
Why use Guerilla Marketing?
Need Reasons to try out Guerilla marketing ideas? Here we dive in!
It's cheaper than you think
Yes, if you have ever undertaken offline advertising, then you may have spent a hefty amount of outdoor advertising. And not just once but multiple times. Whereas in guerilla marketing, one advertisement strategy can change the way people remember your product or service for a lifetime
Talk of the Town
Guerilla Marketing is pretty massive and certainly not if you want to stick to your local grounds. It has the power to take you aboard on a national and International level with ease.
Outbeat Competitors Smartly
One proper attempt in guerilla is being creative enough to outshine the competitors and that will help you immensely. No monitoring your competitor, no copying their tactics, etc.
Truly Killer Strategies
Whether you think of the greatest TV ads or those worldwide Apple launches, they still don't stand as powerful as these Guerilla ideas. The reason is that any company brand can be noticed through Guerilla marketing ideas. Whereas today Apple is being noticed because of its years of marketing and its proven quality. But that journey took years. Guerilla Marketing Ideas are exceptionally killer styles, helping your brand be known worldwide.
Elements of a Good Guerilla Marketing campaign
Excitement should roll in
It's good if the whole advertisement can warm the crowds with some real dose of excitement. This means the message should be subtle, yet not stray away from the brand identity.
Unique concept
Stick to original ideas and don't ever compromise on that. The point is Guerilla marketing is not done every day or every year. Only a handful have been released by top brands and they are noticed. So, if you imitate that one, people surely catch you on the wrong foot.
Pause, Ponder, Amaze
Make sure that your Guerilla style is stunning enough to make the public onlookers pause for a minute, ponder or think about what this is all about and finally go Wow about its message and the way it was conveyed.
Keep the humor buzzing
Life is serious enough and if your ad can be impactful and pass on a smile, won't that be so refreshing to the mind? Let the concept be entertaining on a positive note. Watched Skore? See how they add the humor element into the brand and it caught the limelight in a matter of hours!
Where is your target audience?
Know where your target audience usually visits. It could be malls, open grounds, libraries, near travel hubs, etc. Accordingly, organize the event to take place there.
Be Message Driven
We are here on a Guerilla marketing mission to garner customers and build a sustainable business. For this, you need to spread the core message through your advertisement campaign. The entity should speak for you through the images, the process, the concept, the color, and the moves.
Showcase Brand Ethos
The message should share the brand ethos, the mission, and the core essence through this guerilla marketing technique. Whatever idea you use, magnify the ethos in the most striking and brilliant manner.
Timing is ultimate
Do a ton of research before launching this marketing masterpiece. Once you know when and where your audience will be present, that is the timing and location you ought to choose. Or else your efforts go wasted.
Blend mystery with human psychology
The beauty and success of Guerilla Marketing are that you ought to add an element of mystery to the message. This is quite tricky. Don't bore them, let the mystery wrap the brand essence creatively.
Great Guerilla Marketing Ideas and Examples that actually trigger long term attention
Viral MarketingThis is a type of guerilla marketing that goes hugely viral within a matter of hours and days. It could be small and weird ideas that actually people take note of. A few examples to cite are: Dollar Shave Club
They came in with a power-packed fun punch line – "Are our blades good? No. Our blades are f***ing great." People loved the way, the ad was enacted and shared across YouTube: https://www.youtube.com/watch?v=ZUG9qYTJMsI Plus it was cost-effective ad the entire storyboard and the ad was executed by Michael Dublin (one of the co-founders of DollarShaveClub.comNike
A simple but highly viral guerilla marketing plan was executed by Nike. They went out to the parks and placed benches with no seaters. It was crisp and totally aligned with their brand identity. As the tagline goes " Just Do It", the lack of a seater would mean that the person is out to walk and run and stay healthy, and not just sit and relax in a park.Skore #Get NaughtierThe brand came in with a super innovative concept that went viral quickly. The ad ideally targeted how life can get spicier for young people in the most novel style. Coupled with the whole brand, they made sure to add suspense and humor to add more body to the concept.Adidas:
The iconic Adidas pop-up shop shaped like a giant Shoebox was set up had gone viral as people love to shop and take photos of this huge building shaped like a shoe box. This was viral then and even now.Frontline flea and tick spray
Catch this highly viral strategy that made people wonder more about the fleas. The large sized image from Frontline https://moosend.com/blog/guerilla-marketing-ideas/ actually showcases fleas as people adding a humor touch to the whole campaign.Netflix Squid Game: Source
Squid game was known to the world once Netflix took this whole game to their platform. Previously, it was just a high-risk game launched in Asia to help people play and pay off their debts. Netflix stepped in and used this Korean Survival TV series to attract attention from all over the world. People loved to watch it and indirectly, gave all their attention to Netflix too.
Ambient MarketingEver seen huge unseen dolls, or objects on the normal streets and realized that you have only seen them on TV until now? Well, that is what Ambient Guerilla Marketing is all about. It's powerful, attractive, message driven, and will blend into the whole environment easily.Coco-Cola Happiness Machine: https://www.youtube.com/watch?v=lqT_dPApj9UThe company brought in the happiness vending machine to be installed at common public points like supermarkets, malls, colleges, and cinema theaters. The machine itself was a silent reminder of the brand, where various other soft drinks were available to enjoy like a community.BIC Shaver – Source – MoosendA classic guerilla style shaver ad in a golf field really caught everyone by surprise. They have broken the norm of silently advertising, and interfered with the entire plot at hand. In place of the mower clearing the grass, they displayed a picture of the razor clearing the space. Lawn Mowing is done in a new way and highly relatable, as they stress the razor is sharp to even mow your lawn.Hindustan Lever Bin Boy: Source https://www.youtube.com/watch?v=uMd8pHjab-M
You may have seen dustbins that are placed in large exhibitions with the name of any company that sponsors them. They are excellent ways to communicate a message (like not littering the place) and also get alerted to the brand. So, there will be an underlying social cause fulfilled in this process.Bin Boy did the same through their thoughts of a young kid.Sport Uniforms
Almost 80% of the world's population loves some sport or another other and that is where guerilla marketing is used by companies. For instance, take the football 2022 match, the players have big-time sponsors like Nike, Puma, Adidas, and Hummel who advertised their brands via uniforms, kits, banners and so much more. In fact, in 2022 Nike was the prime kit supplier.

Samsung source image
They followed an Ambient Guerilla marketing model to introduce the Samsung Galaxy S6 edge+ via a digital billboard. For this, they chose a busy street in Stockholm, placed digital billboards, and gave live notifications at the corner of the billboard. This replicated the real smartphone and promoted the features of extended screen space.

GrassRoots MarketingThis technique is also Astroturfing marketing and is known to be a prominent part of guerilla marketing. This technique is used with a wide perspective to make people aware of their brand goals at large. This will be mostly environmentally based or human protection etc. The brand would essentially not be projected.American Cancer Society source image 13
The company went ahead to place posters on beaches to alert beachgoers that too much sunlight can cause skin cancerCopenhagen Zoo Source image 4
They painted a giant boa constrictor visual on a bus to seem like it was crushing the vehicle to bits. People were left shocked and puzzled on the streets. The bus wrapped by a snake became the talk of the country and soon drove visitors to the zoo.Colgate source image 29
They innovatively added ice cream sticks (shaped like a brush) into icecreams and as children enjoyed the ice cream – the stick would be revealed. The gentle reminder was to enjoy the dessert and still clean the teeth. It was a smart move and raised awareness for parents, schools, and young children.
 Street MarketingIf you have seen a public stunt on TV ads, like washing campaigns and dances, with the coming of Street Style Guerilla Marketing, the same effect has been brought forward to the real streets. The impact is impulsive, energetic and so very transparent. Various types of street marketing are flash signs, Flash Mobs, games, speeches, surprise mock games, impromptu music shows, concerts, etc.Mc DonaldsThey set up zebra crossings on the main streets in the USA but in the shape of a French fry box – just like how you are served at the fast food chain.Axe Perfumes source image 10They went into the metro where the directional signs showed a guy using Axe and being chased by girls. It was creative and served the purpose to the point. Directions were clear and the impact of Axe was perfect.KitKat
Just Like McDonald's, the brand Kitkat headed to the streets with cross-road zebra crossings. Apart from that, they were on the streets and added metal benches to red-painted billboards. People loved to sit and snap photos. This made it viral and was shared on social media instantly. The KitKat seesaw bench https://www.valens-research.com/dynamic-marketing-communique/have-a-break-how-kit-kats-creative-marketing-keeps-their-slogan-fresh-gorillas-of-guerrilla-marketing/ was fun element was adults and the tag went like " Have an uplifting break"T Mobile: https://www.youtube.com/watch?v=c5-i5DqbmdI
Catch a glimpse of how they used their brand to prank people and still make them love the brand in a very, and emotional style. The team was on the streets, going live throughout and totally unsuspecting. They earned a lot of rave reviews for their ingenuity in those years.

Red Bull: https://www.youtube.com/watch?v=qJFh321nB-k
This was a lovely publicity stunt wherein they used an expert skydiver to love and fly in between airplanes. The stunt was able to replicate the Tag Line, "Red Bull gives you wings'.

Bavaria beer – 2010 -https://www.imd.org/research-knowledge/case-studies/imd-3-2261 /
The group was known to be a Dutch beer family group, known for their non-alcoholic beer recipe. They wanted to reposition from being a local group to an International group. For this, they appointed girls to dress up as cheerleaders at the 2012 European Soccer Championships in Poland and Ukraine. Their attempt earned a lot of attention.

Mous iPhone cases
These innovative guys went a step ahead to attract iPhone owners with a strong protective iPhone case. They went to the main streets and asked passersby to fling an iPhone up in the air, People were thoughtful and their trial only made them love the sturdiness of the product.

Graffiti MarketingYou must have seen a lot of mural paintings turning boring city walls into artistic worlds. That is what graffiti is all about. Companies have used graffiti marketing to make their mark on people's lives with a touch of artistic light.Puma source
The Suede Collection launch was a fine example of how Puma collaborated with pop culture personalities namely Muhammad Ali and the famous Karl Lagerfeld in New York. They gave a new life and identity to this collection with their creativity.Starbucks source
They tried out reverse graffiti marketing whereby the dust from the ground is used to create images or writings on the ground. They used the technique of initiating people to look carefully as they walked on the streets.

Experiential Marketing https://digitalscholar.in/guerrilla-marketing-examples-from-top-brands/

Those executed as experiments in a positive and pleasant manner fall under this category.

All the below listed brands used the public escalators, steps, etc to paint their brand name and hint the brand name every time people use it.

Volkswagen

Watch how they excite customers with an elevator rocket ride: https://www.youtube.com/watch?v=yPztb-c16as and still give a sample of how smooth their vehicle rides would be.

Ikea – the staircase drawer source image 17
The staircase at public points was shaped like drawers to keep people in wonder and notice how ingeniously they make storage spaces with furniture.

Stealth MarketingHeard about undercover agents? They are sly, watchful and so very intuitive. The same philosophy runs through the Stealth Marketing technique.Apple https://www.delnext.com/blog/en/15-examples-guerrilla-marketing/
You may have noticed how films show a scenario where an iPad is flashed across the hall, and the actor is using the entity in their screen space. So, automatically we noticed that an Apple product is being used. That is quietly yet evidently marketing Apple through steal marketing.FedEx source
The same holds good with FedEx, which showcases parcels being transferred and gifted to homes through FedEx, In the movie Cast Away, Tom Hanks plays the role of a FedEx delivery person and that is crucial at that point. You can imagine the amount of attention the brand received at that point.Sony https://www.youtube.com/watch?v=qLjVfX9JNRg
An interesting campaign that Sony did to promote Ericsson phones was caught on camera and created a viral buzz in the nation.
Ambush MarketingThis is a clever way of guerilla marketing whereby a brand is associated with one of the most happening events, movies, occasions, or personalities at the time.Burger King: https://www.youtube.com/watch?v=TR6XhtdU6TA
This is a form of Ambush Marketing taken up by Burger King whereby used the clown as an evil character and make the Halloween parties more horrifying and entertaining with this video. They encouraged their customers to dress like a clown and enjoy a burger.
Wrapping Up: Plan your next guerilla marketing idea
Embracing into the journey of guerilla marketing is always an exciting zone. You just have to think about the end user experience and reaction to understand the outcome and joy of this particular effort. In the world of Marketing, Guerilla Marketing has made a firm footprint and helped companies take off from an absolute zero. You can achieve the same. For more tips, on how you can take up digital marketing and increase your online visibility. Get in touch and as can help you.