Marketing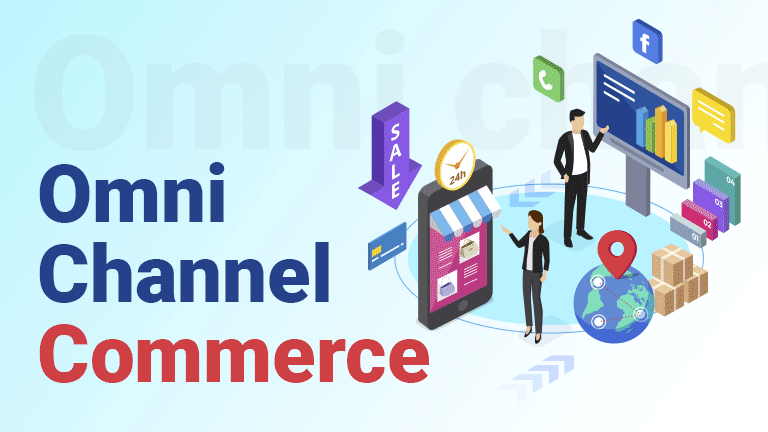 Omni Channel Commerce is all about lending a personalized, unified shopping experience to a shopper. Be it in fashion, food, education, health, technology, gaming, or wellness, this new age experience is what every shopper will love to adopt.
If you are looking forward to taking your business forward to the next level of growth, and market leadership, Omni Channel Commerce can help you out. Learn further from this page on every aspect that we cover on this.
By the way, here we uncover not just Omni Channel Commerce, but also how to handle Omni Channel Marketing and Omni Channel Distribution.
What is Omni channel commerce?
Today, retail business has upscaled exponentially and one of the reasons this is possible – is due to the advent of omni channel commerce. Did you know that almost more than 60% of people still prefer the physical store shop experience? With Omni Channel Commerce, this scenario is slightly shifting. Today, we have a growth in the number of Omni Channel Shoppers.
This is an innovative system brought forward by businesses whereby their business, logistics, customers, marketing, skills, and inventory are managed under one unified platform. So, multiple channels of commerce are brought together enabling seamless interaction and customer satisfaction always.
For instance, you may have a shoe store that is physical and offline. You may also have an online e-commerce store to serve your online buyers. But their management can get tiresome as the sales and marketing efforts grow. Each of the places where your customers can approach you are the Vital Touchpoint in Omni Channel Commerce.
It could include:
Physical store
Quality websites
Door to door salesmen
Online marketplaces such as Amazon
Social media pages on Instagram and Facebook
WhatsApp groups
Mobile Applications like Uber, and Zomato
Over phone calls
Email reminders and offers
Catalogs distributed at exhibitions, etc
With Omni Channel commerce, all this information and management become one. This works in an integrative model whereby now your customer can shop the same pair of shoes both online and offline.
Intrigued? We're here to explain further. Being digital marketing experts for decades, mastering the way commerce has evolved from the brick and mortar to the digital mode has always fancied our attention.
Now, Omni Channel Commerce is the upcoming changemaker that Smart Businesses worldwide are adopting. Be a part of this power trail. Read on.
Important Elements of Omni Channel Commerce
Omni Channel Commerce is a mixed bag of the following elements:
Omni Channel Distribution
If you are into business, you will understand that businesses function both offline and online. Each one is focused to work within a particular work cycle. You can always have a physical store and an online website and a mobile application. Traditionally, these were managed separately with two teams, strategies, and so on. Today, under Omni Channel Distribution (link to another blog ), the entire system of warehousing, logistics, and customer management is taken care of under one team in a unified strategy,
Omni Channel Marketing
Businesses that were marketed under various modes of commerce will now be unified under the Omni Channel Marketing label. For instance, you will have a web-based shop, a mobile app, and an offline store. The marketing efforts for all of them can be streamlined through a unified platform. This way you can manage outdoor guerilla marketing, email marketing, social media marketing, and even influencer marketing, etc. So, it's not only one mode of marketing, but you can reach out to your consumers through various streams. This way, you do not miss the opportunity
Omni Channel Retail
It is not the third type of modern business is Omni Channel Retail. In fact, this is also Omni Channel Commerce, but its model seems blurred for many digital marketers and business strategists, Just like Omni Channel Commerce, customers can make use of various offline and online channels to shop for their retail products. It focuses on customer experience and offers an integrated approach to connect with end consumers. People look for a real shopping experience in online stores too. This retail real-time shop and user connection are what Omni Channel Retailing is all about.
For instance, you may have seen websites use AI to allow people to place their photos for hairstyles and see if it suits them via the online channel. That gives the real-time effect to a large extent. The same has been adopted in interior design companies. This user experience is part of today's customer shopping journey.
Importance of Omni Channel Commerce
Analyzes the Shopper Journey
With the use of the internet, social media, and word of mouth, retail shopping has been such a pleasurable experience. Be it physical stores, or e-commerce shopping, the customer journey is a huge aspect today. A customer journey is the feeling of comfort, connection, trust, and communication that a customer can experience while exploring the products and taking the final decision. With omni channel commerce, they can take their time to view each product, talk to customer care if needed, and then make the buy. The more the level of personalization, the better the shopper's journey can be witnessed,
Increasing the scope for sales revenue growth
We are talking about no one channel of sales, but multiple channels integrated into the platform. So, that means more scope for sales. The customer can now visit the physical store or order online through the website or even shop via emails send, moving on, through your social media pages. Practically, when you set a sales footprint wherever they are, the going gets more result oriented. They can approach your store, through any medium of shopping.
Curated customer retention
With the help of cookies, websites are used to understand the customer search results and accordingly showcase products. Today, this has stepped up to the concept First party data transfer (link to the blog ) wherein the customer willingly submits their preferences. So, this enables better customer retention, as businesses can curate the search results in less time.
Effective communication
Communicate creatively with your customers now through omni channel communication. Today brands can hold social media engagement, giveaways, and post offers on their websites. These can be easily availed in their physical stores through coupons and sales discounts. Alongside, customer care is much better through Omni channel distribution. Once a complaint is given, the omni channel system will understand the type of products the customer has bought from the store previously, the mode of buying ( offline or online), etc. This way, the conversation can be more personalized ensuring customer satisfaction.
Consistency Brand Value Promotion
Since this is omni channel commerce, the company can ensure that a common brand value is maintained across multi channels. So, whether you go to purchase a smartwatch from their retail offline store, website, or Instagram page – the brand ethics, value, feel and quality will be the same wherever the customer goes. This is because, with Omni channel distribution, the entire management will be integrated.
Advantages and Disadvantages of using Omni Channel Commerce
Every concept of business has two sides. Let's inspect the pros and cons of Omni Channel Commerce
Benefits/ Advantages of Omni Channel Commerce
Seamless Customer Experience
Customers get the chance to shop online and offline at their pace with the same spread of choices, and price offers. This elevates the customer experience to the next level. For instance, you may like a particular dessert store in your home town. If they have a website, you can always order it online, provided they have logistics worldwide. So, don't your sweet tooth pleasure anywhere.
Result Centric Marketing
With Omni channel distribution, you can quit the guesswork marketing. If you are unsure what sales offer will attract the audience, here is the data that will speak to you. If your analytics show more teenagers visit your technological products or store, you understand how to fine tune the marketing for their line of thought.
Enhance Customer Loyalty
Since the marketing has been fine-tuned through multiple channels in an integrated work model, this builds customer loyalty. Work to showcase your products in the way that your customers seek. For instance, long back the innovative product called sweetened condensed milk was introduced into the markets. But was considered only a luxury product. Today, with social media, and interactive websites, pamphlets, people are taught how to use the product in a million food preparations.
Well segmented Data
With Google Analytics, Moz, and even website data graphs, digital marketers can access a lot of meaningful data. In order to understand what price limits, offers, and times of sale actually work – you need to see the data. In an offline store, the peak shopping times and the most sold products have to be noted. Keep a note of the kind of queries asked by customers and train your staff to inform the product development team. The same goes for online modes of sales. Divide the data into various sections so that a better understanding is obtained.
Strategic Data Analysis
In Omni Channel Commerce, data collection, data segmentation, and data analysis are very crucial for making decision making. Trailing behind the numbers to understand what they project and how you should shape your business goals, would be part of the role of a data analyst. Do it strategically and half the clarity is gained.
Personalization
The more the customer preferences are understood, the level of personalization will come into the workflow. In the case of Omni Channel Commerce, the entire system focuses on boosting sales by understanding what its end user wants. This personalized effort is admired by every customer.
Unified Optimization
Since Omni Channel Commerce is an integrated approach in business, it enables digital marketing optimization in a unified manner. All the channels are managed together to ensure that the offers and brand value stays the same everywhere.
Quick Inventory Movement
No stocks remain stagnant when it is used in Omni Channel Commerce. If the stocks are kept for the web store today, the demand may come in for the physical store. So, the same stock can be circulated through all channels as per the need.
Well defined automated system
The system is automated and streamlined to ensure that no errors take place. Thai prevents cost wastage and the employees can handle other important jobs in the long run. With automation, the entire integration will be flawless and more agile in unpredictable situations. For instance, if you have huge orders; the inventory system will alert the concerned employees where the stocks exist and the logistics can be notified of the same quickly.
Better operational control
The employees and management can manage all the departments and channels in a more organized manner, Well operated businesses can go the extra mile, expand and progress faster. To facilitate this, omni channel commerce is a perfect way for large companies.
Systematic cost and warehousing management
The cost will be minimized due to the reduction of repetitive work. Similarly, there will be an integrated warehousing system and stocks will be taken care of under one management. So, no stocks are left idle for long and money will be invested as needed.
Limitations/ Disadvantages of Omni Channel Commerce
Need Experienced Staff
In omni channel commerce, many channels are involved and expertise is needed to handle them together. Companies should train them properly or else, there will be waste of time, money, and effort. Without experience, it is difficult to uncover new ways
Complex Infrastructure
Often such large commerce business models fail to work because of the complexity of the infrastructure. You need a well equipped team to handle the online and offline stores, social media, logistics, inventory, trends, and customer preferences in one go. Such a complex setting is often hard to manage by single entrepreneurs.
Balanced attention to all channels
After setting up all the channels, often companies find it difficult to monitor all at one go. Though it is automated, unless the staff is trained to read the data and take decisions, the effort placed into each of the channels will be fruitless. The workflow between all of them has to be connected and that cycle is what brings coordination of inventory control, customer relationship, and sales growth
Lack of creativity
Omni Channel Commerce thrives on the fact that businesses can be made creative. However, if you intend to open multiple channels and cannot engage with customers, such a model will not reap in sales. No creativity can be a huge limitation for the company.
Costly scenario for small and mid sized companies
The initial set up is an expensive affair for small companies, startups, and mid sized companies. It is a great option for large companies, where they can diversify their marketing streams and gain more sales.
Challenges Faced while Adopting Omni Channel Commerce
Understanding each Channel well
Each channel whether it is a physical store, web store, online marketplace, or WhatsApp group, all have particular natures and workflow. This has to be understood well, the types of customers who visit these channels have to be noted, etc. Newcomers who do not try to study these channels can mess up their work completely.
Integration of all channels
Integrating all channels means that you integrate the data, customer analytics, sales plans, logistics, inventory, and staff responsibilities. This is time consuming if not planned well.
Difficult to focus on every channel
Just as integration is complex, so is the continual monitoring process that tags along with this workflow. Each of the channels needs regular updates and strategies and goals for the short term and long term. A great employee work system can only bring on results for this business model.
Constant Technology upgrades
Omni Channel Commerce works on automated systems and premium technology. So, this needs constant upgrades, security control, and tools to help the staff understand the power of data. Your IT team should be regularly updated about the changes in the market about this.
Proper Measurable Expertise
Collecting data is not enough in Omni Channel Commerce. Knowing how to derive meaning from it is also important. This is a challenge for inexperienced growth marketers and digital marketing experts. Unless data is measured and analyzed and strategies are evolved from this, the goodness of Omni Channel Commerce will not be used to the fullest.
Difference between Omni Channel Commerce and Multi Channel Commerce
Omni Channel Commerce or rather Omni Channel Retail is a way of combining the various multi channels of business that a brand owns.
Omni Means one and All. It does not necessarily means that a brand will be using every channel for marketing. But they will combine the working efforts of all the channels used.
Multi Channel, on the other hand, means that the brand will have physical stores, online websites, social media communities, etc. Each is handled separately and not connected at all.
Let's consider a shoe store like Nike.
The multi channels used by the company brand would be
The brick and mortar stores set up across the world
The online website of Nike
The social media handles of the company like Twitter, Facebook, Instagram, etc
The online marketplaces where you can buy these products like Amazon
Each of these is separate. The offer present in the physical store, will not be present on social media. So, that is because they are not integrated at all. They are separate and multiple.
When this gets transformed into an Omni Channel Commerce:
This means all four above channels are integrated and managed together under one management.
In case your customer like one shoe style at the physical store, they can always visit the website, order and ask them to deliver it to the mentioned address.
If there is an offer on the social media channel, this can be used with the same id and mobile no – they had used at the physical store too, or vice versa.
So one platform, one customer id, and plenty of choices and channels to shop from. The customer will love the experience and can purchase on the go.
That is what defines the difference between the two.
Transition to an Omni Channel Commerce Ecosystem
It is next to necessary to adopt the Omni Channel Commerce work Model
How it all happens: Source
The Omni Channel Retailer Journey Transition
You need to follow a 5-step transition to ensure that your entire system becomes an omnichannel seamlessly.
Understanding the Customer
You cannot do random guesswork to understand your customer. A lot of their expectations, behaviors, outlook about shopping, and their requirements have to be found at a personal level. This can be done through quizzes, polls, and questionnaires at physical stores and Facebook polls.
Picking the Channels
Choose all the channels you need like websites, brick stores, mobile apps, digital marketplaces, etc. This should be chosen depending on where your customers exist mostly. If your customer prefers mobile app shopping, then that is a must-have. Or if they are into Facebook communities, be present there too.
Identifying the Channel Purpose
It is best to define the purpose of each channel. For instance, you can have online marketplaces like Amazon for the sale of general products, websites, and offline stores for all customized and general products. Social media can be used for customer engagement purposes.
Linking all the Channels
Make sure that every content that you place on all the channels should be the same. The offers have to be relevant everywhere. If your Google Ads show a 30% discount in a marketplace, the website also should display the same.
Channel Maintenance
Always quality check to see that the links work, the customer service is glitch-free and the target audience gets a seamless user experience through the buyer journey. As a retailer, if the sales and customer loyalty have to grow, you need to update and maintain the buyer touchpoint. It should be secure always.
The Omni Channel Customer Journey Transition
In the case of a customer journey, in modern times, the way people shop is very different. Take, for instance, a person who wants to buy a designer suit. They go to a boutique and choose one. First, they would do a random search on the internet for the price of the same piece. Then the purposes, ratings, and reviews will be searched.
So how can you make their omni channel customer journey more fulfilling? Try this path to make the transition more smooth.
Research based channel content
Since you have researched where the customer usually likes to shop, you can appropriately – use it as the main touchpoint. If it is Instagram, make an Instagram advertisement to kick start the process.
Informative and feature-rich content on various channels
With an attractive post or video, add on features that they check for usually. Going back to our example – the designer suit. In the Google advertisement, you can talk about cloth quality, whereas on Instagram you can talk about style ideas
Engage with the customer
Through polls, interesting conversations, and competitions, brands can engage with customers. This helps them to watch, and keep track of the latest updates on the brand. Also, it increases the scope for more likes, shares, and being viral across social media. You may have seen exciting dance challenges that are being hosted on social media. They harbor in crowds, which increases engagement.
Use cookies to showcase the brand advertisements on their searches
Websites can use cookies to collect data. This helps to understand what catches their attention. Based on this, you can fine tune the type of alerts, and advertisements sent to the audience,
Send emailers on similar products
Make sure to send regular emailers that trigger their interest levels. It could be designer suits that look similar to the one they choose or a wishlist. Plus, the same material or some new stocks might be good for them.
Send interesting Facebook notifications
Just like emailers, send a friendly Facebook notification to their message box informing them about the latest offer or even a happy customer story. They engage people as customers love to see others who bought just like them.
Showcase interesting descriptions on the website
Your website should describe the product in an attractive manner, In this case, how it feels, what occasions it can be worn, how it should be washed and maintained, etc. This gives a better understanding of the product and the brand's quality.
SEO optimization enables more website browsing
Make sure to make the website SEO optimized so that it is ranked on the search engines. This means each page should have the right keywords, and proper linking to each category to enhance a smooth website flow.
Increase the user experience with optimized visuals
Use good quality images and videos that can be loaded quickly and look clean and crisp. This created a very pleasing user experience for the viewer.
Give user friendly options of choice, and pay facilities
Be customer friendly always and give them the choice of delivery and payment facilities. They could have ordered from the store for instance. If they ask to get it delivered to an address it is best you work it out for them. Even better if you can add happy points to their customer id. This can be used later on as cashback or coupons when they shop online.
On time delivery and logistics updates
Communication is very important in any buyer journey. So once the order is dispatched or a service process has started, it has to be intimated to the customer.
Send out appreciation posts to their Instagram feeds, and emails
A little love on social media is always appreciated, so take your time to post such sweet moments of happiness and gratitude. The buyer journey never ends with the sale of a product, as customer loyalty has to be built for sustained purchases.
Regularly send similar category offers to their emails.
Did they love a collection? Encourage them to buy further from the same collection. It could be a color, a material, or a style. Follow it up and let them know more about similar products.
Real Life Industry Examples for Omni Channel Commerce
Singapore Airlines
Now, this is not a retail company in the true sense, and still their innovative approach caught the attention of customers. To build that omni channel model, the airline company partnered with shopping malls and airports to enable booking, in flight facilities, and many other features. For this, travelers would earn loyalty points which could help them enjoy affordable travel options.
Target
They used a lovely approach to use Pinterest. People could find nice photos on Target and share them on their Pinterest profiles. That would subsequently get a search value and people
could purchase them in their online stores or physical stores. That helped them to boost sales by about 10% of the previous turnover.
Sephora
In a lady's world, Sephora is everything today, But long back, the brand was invisible. They took the sales from the brick and mortar stores. They posted the same products on the website. People could simply scan the products and this would be taken them to the website. Here, tips about how to use the product would be explained., The experience was loved by all. If delivery is opted for, they could just log in to their account and track the order easily. The sales staff were customer friendly and regularly updated customers about how to use the website from anywhere. This led to a huge jump in their mobile based orders.
Disney
Nothing beats the creativity at which Disney uses omni channel commerce. Once you get to the park, people can also use the app to know the timings and types of pleasure rides in the park. You get to log into the website for a complete experience. Then came the smart technology wristband named Magic Band. With this, they can snap photos, check into the rides, and order food at their hotels.
Trends of Omni Channel Commerce
Social Media Sales Strategies
Social media has the power to influence decision making today. So, keep your media channels alive, engaging, and boosting sales. Over 75% of people today hit social media ads to make a purchase or even visit a website.
The Walk to Brick to Mortar and E-commerce Unison
Whether we have an e-commerce store brick and mortar stores, people like to connect the shopping experience together. They love to see the clothes online in the store too, try them out, and that unison in the shopper journey is an upcoming trend.
Pick Up Store are on the rise
People have loved the concept of curbside shopping. You do not need to get into a store. You can order them online and then collect them physically from the entrance touchpoint. It has been used by food brands all over the world.
Digital Transformation
With digital transformation, companies can manage stock and inventory control digitally. This can be planned in advance with a few clicks and can be done from any part of the world. The seamless nature of the digital business makes omni channel commerce more versatile.
Retail Planning Automation Software
In retail planning, automation is a huge concept that is trending now. With proper automation, customer data can be listed, and logistics and inventory control can be initiated. This enables unified management of stocks, profits, and profit maximization.
BORIS sales
This means Buy Online RTeturn in Store. Today, people love to buy online. But if there is an exchange, it can be returned in the nearby store., This convenience has been appreciated a lot. That has earned companies a lot of trust and loyalty.
Optimized Customer Data
Using customer data diligently is a new trend. Without the support of third party cookies (link to be placed), now customers give information willingly. So first party data transfer will help brands provide better products to the target audience.
Capacity Planning
Stock control is a very vital aspect here. Since you have many channels to provide, the inventory and logistics should be done on time. With the Omni channel commerce, the planning can be done in a result centric manner. Overstocking will be negligible now.
Speed and Delivery Expectations
People love the concept of same day delivery. So, if the brands have more dispatch units in each city, this would be possible from now on. The quicker the delivery, the better service.
Conclusion
The evolution of commerce and every business niche has gone a long way. With the advent of omni channel commerce, we also have learned how companies work plans for omni channel distribution and omni channel marketing strategies.
For a company in 2023, and further on, adopt the principles and trends of omni channel commerce and see how your business can upscale seamlessly.