Marketing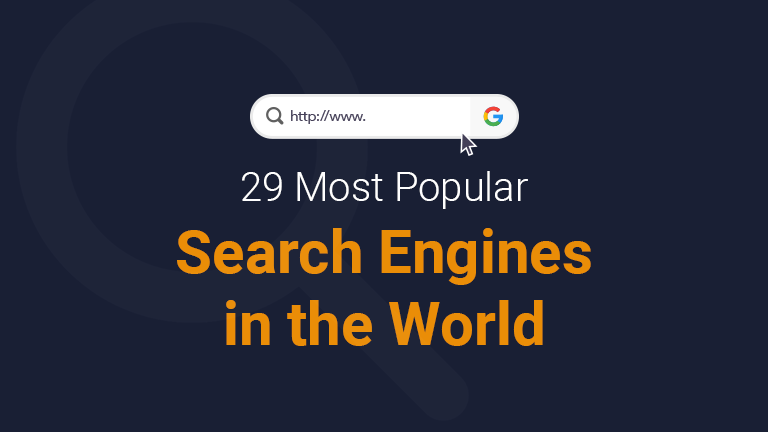 Top Alternative Search Engines to Use Apart from Google & promote your Global presence
We are on the rapid hunt to check out the various search engines that are being used worldwide for various purposes. Of course, the icing on the cake happens to be Google. Guess it has been added in most of our daily Vocabulary slang, hasn't it? For example, if you need to figure out something for your university project, we just utter 'Google it! And for sure, you will find something related to your search in this massive digital search bubble.
But it is not always perfect, and we need to leave the concept that Google is the best. There are so many other alternatives that can promote websites, drive in substantial traffic, and yes, even make way for some notable conversions
Read on as we explain the search engines that you can use, their links, SEO algorithms, and how they will help marketers, individuals, entrepreneurs, and businessmen.
8 Generic Information Search Engines
1. DuckDuckGo
Founder : Gabriel Weinberg
Founded – 2008

Snapshot: DuckDuckGo is a search engine that lets you search anything under the sky without having a hidden eye to save in your preferences and personalized searches. So, practically, you won't get stalked as per your searches.
How it helps you: Your privacy is completely respected and hence they do not show you search results based on any of your previous searches, Everyone gets to see similar search results if they type a certain term. Besides, it shares a clean interface, hardly any advertisements, and the user experience is safe and streamlined
2. Google
Founder : Larry Page, Sergey Brin
Founded: 1998
Snapshot: Well, Google, having amassed over 86% share in the search engine market, shows that most of us head straight to this bubble of information for anything. These energetic themes, the ease of use, the personalized searches have attracted people at the cost of their privacy.
How it helps you: The Search Engine giant uses the Data gathered in a dignified, streamlined, and innovative manner. By watching the browsing habits of users, they list the search results accordingly. As a digital marketer, this offers a lot of lessons on how to find your customers, the right keywords to use and even the promotional campaigns are worth the effort and cost you invest into Google.
3. Yahoo
Founder: Jerry Yang, David Filo
Founded: 1994
Snapshot: Yahoo, is an American search engine provider, and has been known to digital enthusiasts for a longer period. Today, it is Firefox's default search engine and has been considered a bit outdated for most users. The concept is different from Google as it integrates many niches like mails, games, shopping, news, and the search engine in a single platform.
How it helps you: It offers a lot along with easy navigability and therefore you cannot just fit into the search engine category. You can access Yahoo answers, financial updates, news, Yahoo mail, shopping offers, games and it is a go-to place for old and the young alike.
4. Bing

Founder: Microsoft
Founded: 2009
Snapshot: Right after the search engine giant Google, we have Bing making headlines with its fast and easy interface and search engine experience. Owned by Microsoft, this company has been attracting more than a quarter of the search queries of the USA in 2020. For many, the verdict is that – the User Experience is far better than Google and we could not agree more!
How it helps you: They add a touch of beauty to each of the services that they offer. They have a clean, intuitive GUI experience and their marketing strategies have nailed the sweet spot of users. Bing offers an attractive rewards program for those who search here and the points achieved can be redeemed at the Windows and Microsoft shopping venues. Now, that's cool – to search and get a point!
5. Baidu
Founder: Robin Li
Founded: 2000
Snapshot: Baidu, is China's top search engine market, surpassing Google, as they have over 70% of the digital users today. The search is in the Mandarin language, but the overall search experience resembles Google a lot.
How it helps you: With rich snippets, and SEO search high-quality AI interface, users are in something that is way superior to the standard search result interface that we enjoy globally. It's way simpler to get ranked in the organic search, but the biggest issue is that unless you know Mandarin or have someone who is fluent in this language, this search engine is not going to help much.
6. Yandex
Founder : Arkady Volozh; Arkady Borkovsky; Ilya Segalovich
Founded : 1997
Snapshot: Yandex Search Engine is a Russian search engine, and the name means 'Yet Another Index'. It holds almost half of the Russian search users and they have paid and free versions for searches.
How it helps you: Since it is not as sophisticated as Google, it may be easier for people to use, as it does not focus a lot on SEO optimization. There is less competition and that naturally levels up your chances to rank higher in the searches.
7. Brave
Founders: Brendan Eich, Brain Bondy
Founded: 2015
Snapshot: Brave has been labeled as the world's private search engine where users can confidently do their search, navigate and save any information without being stalked, or recorded. With the headquarters based in San Francisco, they have brought a positive makeover in the way online users approach the search concept, but it is in the Beta Stage. This has certainly filled in the void of searching any data digitally, without being watched.

How it helps: With privacy guaranteed, many people are welcoming the search alternative compared to Google. Plus, a Brave takeaway is that users will get 70% of the Ad revenue for any advertisement they see in this search engine. This has offered the search engine huge credibility, as people can now satisfy their informative appetite without compromising their identity, independence, and efficiency.
8. Archive
Founder : Brewster Kahle
Founded: 1996
Snapshot: Internet Archive is an excellent knowledge hub and is regarded as an American digital library where you get access to millions of free software applications, books, websites, games, movies, and images
How it helps you: Anything that you need to find, can be collected from this free library. It is particularly great if you are on a hunt for old websites and other vintage collection books and movies.

Video Search Engines

1. YouTube
Founder: Steve Chen, Chad Hurley, and Jawed Karim
Founded: 2005
Snapshot: YouTube, is an American social media platform where all niches of video format content can be shared. They earn income through advertising revenue generated on the video published by video creators. Over time, this platform has been able to harness over a billion video hours every day, which is some massive data we are dealing with.
How it helps you: If you are a video creator, an entrepreneur, or perhaps a storyteller, then this would be a great platform to share content and have a share of the advertisement revenue generated on the videos.
2. Vimeo
Founder: Zach Klein, Jake Lodwick
Founded: 2004
Snapshot: Vimeo is a strong competitor for YouTube and probably was the ideal spark for YouTube to be born. A fully-fledged platform where all video needs are met with top-notch video marketing tools, team collaborations, monetization plans, and enhanced data security. Today Vimeo has over 200 million users who belong to industries, expertise, and niche of content.
How it helps you: Vimeo is a game-changer for businesses who want to promote their business sales in a seamless, curated, protected work process. Since the competition is much less here, entrepreneurs are bound to get a notable reach in a short span of time
Image Search Engines

1. Flickr
Founder: Stewart Butterfield, Caterina Fake
Founded: 2004
Snapshot: Flickr is an image searching, specifically a photo sharing and video sharing website that helps amateur photographers and digital communities to host their high-resolution images. This is an American service that is secure making it a great option for individuals and entrepreneurs to share their photos with just families or even globally.
How it helps you: Flickr is a feature-rich website and it helps even non tech people to collaborate and organize their visuals and videos in a perfect style. This can be searched easily, and shared across digital space through RSS feeds, the website searched through blogs, and even on emails. Mashable has mentioned some super useful Flickr Search Tools like FlickrStorm, Compfight, Tag Galaxy etc which are really useful for Flickr users.
2. Imgur
Founder: Alan Schaaf
Founded: 2009
Snapshot: Another social media focussed image-sharing website is Imgur, which originated as an American online image hosting service. This is the official image-sharing platform of Reddit and they have hosted a lot of memes and various images. Imgur's unique search algorithm constantly updates shares, likes, and views thereby helping images go viral.
How it helps you: This is an entertainment-themed website where you get to share images in informative and interesting ways. Though they have a small customer base, they have been creating a huge impact in the digital space.
3. Pinterest
Founder : Ben Silbermann
Founded: 2009
Snapshot: Pinterest is also an American social media image-sharing website that helps people to add photos, information, images, save them and even promote them on a global basis. People can create pinboards and add images and videos as per different niches and topics. There are more than 459 million active users in 2020 and now Pinterest holds the 14th position among social media platforms when it comes to user count.
How it helps you: For digital marketing agencies and small companies, you can reach out easily and attractively. Over the past year, marketers have seen better conversions on this platform and that means almost a 300% increase.

4. Slideshare
Founder: Rashmi Sinha
Founded: 2006
Snapshot: Slideshare was initially owned by Linkedin and at present is under Scribd. It's a useful American-based hosting service that presents many content formats like videos, Powerpoint presentations, documents, images, and infographics.
How it helps you: It enables individuals to share content, comment and even embeds it on other sites. It stands to be a great database for people to refer to and your expertise could be easily visible on the platform, giving way to conversions.
Product Listing Search Engines
1. Amazon
Founder: Jeff Bezos
Founded: 1994
Snapshot: Amazon is one of the pioneers who began selling commodities online on the global front. Having started with selling books, Jeff promoted the idea of shopping online and ensuring home delivery.
How it helps you: If you have a product to sell today, the best way is to place your presence on Amazon. Though the competition is harsh, you still have a chance to get noticed, rather than if you do it on your own.
2. eBay
Founder: Pierre Omidyar
Founded: 1995
Snapshot: Based in California, eBay is a multi-dollar E-Commerce giant focussing on the buying and selling of commodities on the global front. It focuses on Business consumers and consumer-to-consumer online sales through this website.
How it helps you: They have been known to offer outstanding promotion tools to promote your store, increase visibility, attractive volume discounts without pinching your margins, and even cute package messages for your customers. The eBay marketing strategy has helped them gain outstanding revenues in the first quarter of 2021.
Social Media Search Engines
1. Facebook

Founders: Mark Zuckerberg, Eduardo Saverin, Andrew McCollum, Dustin Moskovitz, Chris Hughes
Founded: 2004
Snapshot: Facebook is your friendly buddy next door, where you get to make friends, do your business, share your thoughts, and have incredible market access in the digital space today. With over 2 billion searches on this massive entertainment platform, it invites more users than Bing.
How it helps you: With such a vibrant and multi-niche user base, marketers can find their customers online with a bit of homework. Of course, it is more cost-effective than Google Ads for promoting your page and the Facebook groups do help a lot to boost your image.
2. Twitter
Founders: Jack Dorsey, Biz Stone, Noah Glass, Evan Williams
Founded: 2006
Snapshot: Twitter is where you would go to get the real-time trending topics of the moment. From News to the trending topics, you can stay updated, search for news, express opinions and this will be live even before Google adds the news to their Search results
How it helps you: For marketers, this is a must-follow as you get to know the trends and accordingly plan your content formats for your audience. You can address probable customers, engage in free business promotion and strike a conversation with a global audience.
3. Instagram
Founders: Kevin Systrom
Founded: 2006
Snapshot: Instagram is presently under Facebook and is a great digital platform where you primarily share images and video-based content. They focus on creative, simple, search styles that help companies and individuals introduce themselves in the most innovative ways.
How it helps you: It is a cost-effective way to get acquainted with customers and reach a new audience. With strategic monitoring, you can bring website traffic and help boost sales. Plus, marketers can re-use their marketing images and present them in a zillion different innovative styles. It is a no-brainer platform and anyone can use it.
4. Quora
Founders: Adam D'Angelo, Charlie Cheever
Founded: 2009
Snapshot: Quora is a knowledge and opinion-sharing platform where people can discuss many topics, research, and even give insight on various topics under the sky. This is an American QA website where global Internet users can interact and enhance knowledge.
How it helps you: Individuals, students, entrepreneurs, and marketers can use this platform to show their expertise and build a customer base or community of those who would like to share and also study various topics.
5. Reddit
Founders: Steve Huffman, Alexis Ohanian, Aaron Swartz
Founded: 2009
Snapshot: Reddit is a social media discussion website that enables news collection, evaluation, breakdown, and sharing. It is free and has a lot of communities – known as Sub Reddits. People need to register in these communities to be able to comment and post any of their thoughts, by strictly following the rules in each of these communities.
How it helps you: This is a website filled with communities that cover plenty of topics like sports, IT, politics, movies, family, image sharing, pets, news updates, music, religion, etc. Once you post anything in the SubReddits, you will get upvotes and they will, in turn, boost your Karma points. The more Karma you attain, your justifications and opinions will matter a lot. Know more about Reddit from us. (Reddit blog link)
6. LinkedIn
Founders: Reid Hoffman, Konstantin Guericke, Allen Blue, Jean-Luc Vaillant, Eric Ly
Founded: 2002
Snapshot: Linkedin is a job and talent search website which also gives users access to professional updates, knowledge enhancement insights, and also wonderful angles on how the corporate is evolving every day.
How it helps you: From getting the endorsement, to being noticed for your professional credibility, this professional website is home to plenty of business and employment opportunities for everyone.
7. Answer The Public
Founders: Gary Preston
Founded: 2014
Snapshot: Answerthepublic is an insightful keyword search tool that matches search questions and the suggested search results are given in images labeled as the search cloud. The website has strategies solutions to organically optimize searches. This can be used in free and even paid subscription models.
How it helps you: You get to spot out where your customers lie, what they search for, and also keep track of the trends over a certain period. By closeup monitoring, new untouched niches can be discovered and they may hold chances for building a customer base.
Entertainment Search Engines
1. Twitch
Founders: Justin Kan; Emmett Shear; Michael Seibel; Kyle Vogt; Kevin Lin
Founded: 2011
Snapshot: Twitch is a video streaming platform that allows users to enjoy live game streaming, live videos, broadcasts, etc. It has been focussing on real-life streams and is something that game movers can join in.
How it helps you: If you are into the software niche, primarily into the gaming world then this platform will be useful to build your audience. Here there are a lot of customization tools and a collection of images, colors, weapons, etc are present to choose from for gamers.
2. IMDB
Founders: Col Needham
Founded: 1990
Snapshot: IMDB is known to be one of the most well-known, and authoritative sources of movies, serials, celebrity interviews, and TV serial celebrities chat shows. All movie and entertainment pages are visible to users and users can rate the movies on a scale of 1 to 10.
How it helps you: The contributors of entertainment movies and serials will have to be registered and their contributions will get rated by the viewers. You can share photos, videos, biographies, etc. Once listed on the website, your content will get more chances to be organically searched.
Travel Search Engines
1. TripAdvisor
Founders :Stephen Kaufer
Founded: 2000
Snapshot: TripAdvisor is a travel-based website where users can view and book their travel trips online via the website or the mobile app. The website gives reviews and other details of the travel destinations.
How it helps you: Since this is the world's largest travel online platform, the hotels, and agencies that partner with the website will have a high chance to rate high and will be accessible to the International traveling community.
2. Airbnb
Founders: Brian Chesky, Nathan Blecharczyk, Joe Gebbia
Founded: 2008
Snapshot: AirBnB is based in California, and is a travel and lodging listing website, helping the global community to check and book places to stay on this online marketplace. It primarily focuses on budget-friendly stay options during travel like home stays, rental homes, vacation guided tours
How it helps you: It helps people to connect across the globe with a variety of budget-friendly travel, and explore options in any place that is listed on the website. If you have registered in this, hosts can get in touch with a lot of reliable business options.
3. Booking
Founders : Geert-Jan Bruinsma
Founded : 1996
Snapshot: Booking is a digital travel website that was developed in Delaware. It helped agents to list their hotels and other lodging facilities on the website. It is available for users in 43 languages and holds over 28 million listings
How it helps you: This is an easy-to-use platform with many travel functionalities and travel organizers can list their offers through a free account. Travellers can also search and pick their destinations and stay options as per budget. The software ensures accurate reporting updates, comfortable payment solutions, and easy access to research and navigates through the website.
4. Hotels
Founders :Geert-Jan Bruinsma
Founded : 1996
Snapshot: Hotels is a hotel booking website that enables travelers to book online or even by phone. They provide information accurately making it one of the most trusted travel online platforms today.
How it helps you: Companies can reach millions of consumers with ease across territories, and with easy payment solutions it connects travelers with no hesitations.
To Conclude
It is indeed a fact that Google is one of the first choices that people would choose when they need to search for something. But that would change over time when the other search engines are popularized more often and their user experience is leveled over a period of time. Hope you liked this listicle on Search Engines and if anything needs to be added, feel free to comment. If there are few that you have not tried, do enjoy Search with a difference.