SEO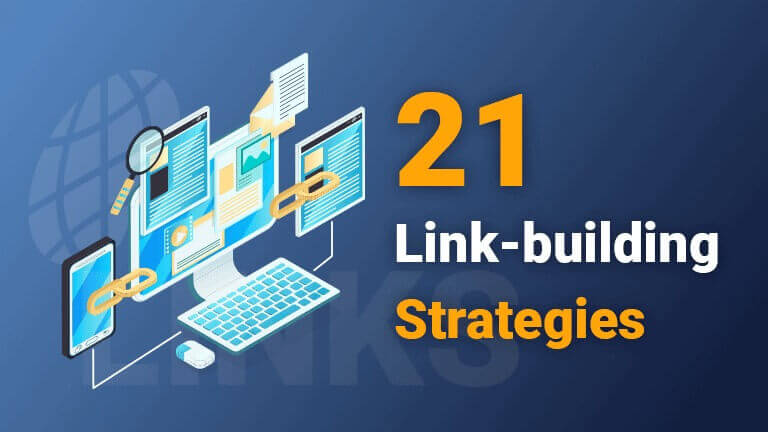 Introduction
Worried about backlinks to the website? As a digital marketer, the reality is that link building is almost a must-have for every website today. We do know that there are a zillion link-building strategies listed on the Web.
But in a practical sense, have these worked for you?
So, we have handpicked the link-building tips that help you connect with high-authoritative websites, establish your E-A-T parameters, and, of course, attain those much-needed organic search rankings, leads, conversions, and yeah- revenue.
Browse through each of the strategies listed below, try them, and yes, it will help your website get noticed in a short while. We have no magic formulas, but these 21 link-building strategies can gradually increase the authority and rank your pages. They are going to be a powerhouse of a digitally inclined source of revenue for your business/website/blog.
Handpicked Link- Building Techniques that every marketer should note
1. Resource Links from Trusted Sites
Did you know a link received from a relevant, authoritative & trustworthy website will add more value to your content?
When we undertake authentic link-building strategies for our client base, we consider only resourceful websites of high value that resonate with their respective niches.
Through experience, we have seen that this strategy helps us create more useful content for our audience and leads to the upsurge of more website visitors, which could turn into leads and sales conversions.
2. Image Snippets
Admit it or not, everyone loves to experiment with images and videos and you could get plenty of social love!
If you create meaningful, eye-catching pictures, embed them with a link, people can easily share them on their social media pages.
3. Web Tools (Publish interactive tools)
A wonderful piece of content should drive-in engagement, and digital marketers have various types of web tools for this purpose.
Interactive tools such as calorie calculators, online surveys, and interesting quizzes will earn click-worthy links.
For instance, you can embed a character counter too on your website and interested people can cite/share/use it as their need calls for.
4. HARO Link Building
If you need your website to be the buzzword, then HARO should be your way to go. Previously, press releases played a role in spreading the word. But today, HARO (Help A Reporter Out) is creating the buzz for you through their fast-growing online publicity service.
They help entrepreneurs land in for some links from famous, high-authority online publications, and this strategy is a sure-shot way to add website value and establish some solid business.
5. Strategic Guest Blogging
If you are a writer or digital marketer, guest blogging is not a new term for you, and though the primary intention behind guest blogging is to drive back traffic to your website, – how often are you able to guarantee this?
For this, implement strategic guest blogging on other websites that match your niche, and you'll need to write on topics that showcase your authority. Connect with the site owners, pitch in with a prominent topic, get the conversation moving, and yes, deliver outstanding content that people will fall in love with!
6. Ego Bait
This is an excellent web marketing strategy for obtaining links from sites that are a perfect fit for your target audience.
As the name suggests, it is an interesting way of catching attention. It's super easy! Spot the person you would like to get a link from. Then give a positive mention in your blog post about them. Let them know by sharing it on your social media platforms.
If the target site links back, then you are lucky since it opens the doors to a wider audience, spikes your website traffic, and, of course, – don't miss your chance to network with plenty of like minds!
We can encourage them to share our link through their social media handles.
7. Conversion Focused Case Studies
Case Studies are designed with the purpose to show how the project was handled and the final results achieved. Such case studies are formulated on various topics under different niches so that the target audience can understand your expertise.
This will encourage them to get in touch with you and that goodwill could earn you a link too.
For instance, when an SEO agency optimizes a website, their case study will showcase how they handled the entire project and suppose they achieved almost triple the leads than what the company had in the past (like our case study on Black Wealth), it convinces clients and needs no more talk!
Link building strategy is an essential element of SEO, but building credible links creates the magic.
8. Citate relevant sites
Are you finding it hard to get links from authoritative websites? Here's a strategy that actually works!
As most high-quality websites are unsure whether a link will harm their online reputation, domain rating, or organic search rankings, they may be hesitant to carry a link from another unfamiliar website.
A solution to this is that you can place their links on your website. Post your optimized blogs on social media platforms. Give a positive shout-out to the site owner and don't be shy about letting them know that you have found them valuable.
Once you gain the trust factor, coupled with a couple of comments, you could earn a link from this high-authority website.
9. Crowdsource posts
Everyone yearns to know the philosophy that makes business gurus or digital marketing experts successful.
For this, you need to network with such professionals, ask them for their valuable quotes (with their links) and compile them into a noteworthy blog.
Alternatively, you could even provide your own piece of advice/quote/ comment below similar posts/ blogs. It will surely attract attention, paving the way to some healthy conversation.
10. Mediocre blog linking
Ideally, the term mid-list pertains to publishing books that are bestsellers but have a worth of their own. In digital marketing, apart from the top-level websites, there is a second band of blogs and websites which do have value and are still struggling to increase their domain and URL rating values.
If you find their content and expertise match your niche, it is fine to establish a connection with them and grow together.
11. Q & A sites
Many of the question-answer websites work on a No-Follow basis, despite that, it does contribute to a fair share of our website traffic. Platforms such as Quora can assist you in locating connections, leads, and even new business opportunities.
12. Events
Online events can bring in people, drive engagements and website traffic with little fuss. It also gives you an immense opportunity to place your links to the event page.
You could create an event page and encourage people to click on your links too.
13. Fill in the Gaps
If cold calling was a tactic of the past, today SEO marketing has sure-shot methods to catch the attention of other blog owners.
You could watch out for bloggers, small websites, influencers, solopreneur websites, do a content study, list the gaps that have to be filled on the website and finally send out a mail to them or even connect on social media.
If your efforts are worth it, they would thank you or they would show their gratitude by linking back to you.
14. Target Diverse niches
Being flexible helps a lot during link building. Find out interconnected blogs that are published in other industries and different niches. You could stand out there by adding your viewpoints or sharing your expertise thus earning more links.
For eg: A finance website writing a blog on how to save money by subscribing to healthcare insurance can get a link from a healthcare venture or an insurance company.
Service can be used across various industries. Just be creative and reach out – if they find you mean something important – they can't turn deaf ears to you!
15. Webinars make way to link building
If you add webinars to your content calendar, it would build in more links, and, as usual, these engagements drive in connections.
You need to address queries and trending topics that resonate with your industry so that the audience joins in and communicates to get the benefit of your expertise.
16. Myth Busters
The propagation of ignorant myths affects every industry, and the same story goes for SEO. So, as a content marketer, you can exhibit your expertise and prove the myths wrong with solid data analysis and informative links. This is applicable in all niches.
These types of blogs are of high value and you can organically earn link-backs from various websites. The more unique your content is, the easier it is for you to get links from authoritative websites.
17. Rank Listicles
Suppose you wanted to show your customer the best/top 10 restaurants in your place or the 100 best places to travel in your city/state, all you need to do is create a fantastic blog post in a rank listicle format. This is easily understood, interesting and people love taking note of your expertise.
Ranking listicles are the latest content medium to present a lot of facts in a crisp style. It could include any topic, any industry, any software, any tool, business-related information, etc.
React out or present the blog to these concerned or mentioned or aforesaid entities & if they find it valuable they would surely link back to you.
Your listicle could speak about influencers, industry experts, and outstanding business leaders. Carve out blogs that present their success stories, caliber, or product strategies in a ranking pattern of information.
You can place their links, post on social media, and give the concerned personalities a casual shout-out. Over time, this could build a connection where they would easily give you links. This would also build a large following as their followers too would love to know more about your blog.
18. Brand Links
For this, you need to explore and find out if sites have mentioned you somewhere in their blogs. It takes time, but the efforts are worth it. Once you spot such blogs, see if they have placed your link. If not, get in touch with them, and get your links placed in blogs where you have been mentioned but not linked
19. Podcasts
Like events and webinars, we have another innovative entry that helps build links. We are talking about podcasts where you get to talk a lot creatively about any topic that connects with your experience.
If famous personalities have loved you, then the good vibes would ring at your doorstep. So, how can you benefit from a podcast that mentions you loudly? Celebrate it, thank them for their gesture and let the world know!
You could either mention the podcast in your blog or you can earn a mention while they share it on social media which will keep your visitor count rising steadily.
20. Infographics
You must have heard an old saying- Words speak louder than actions.
Well, in SEO, visuals do have an impact and that is why infographics are powerful link builders.
Try to publish infographics on various social media platforms with a snippet, so that link sharing becomes an uncomplicated affair.
Promote them, so that more people can have access to them and share as they like.
21. Contest: Your route to a viral buzz
Time and time again people have loved contests, competitions, sweepstakes, and so on. Digital marketers can run a contest designed to engage a natural discussion on your brand.
You could get a chance to interact with people from various industries and different interests. Place your link and encourage them to click, take part in the contest on your website. It could build more engagement and drive more leads.
Winding Up
That is what we at Logicranks work on and the above-listed points are a summary of our experience in digital marketing. If we have found insight into these tactics, then even you can try them – but it takes time, patience, and diligence to crack the perfect must-do link-building strategies.
If time is sparse at your side, and you need guidance on where to build the right links – connect with us, and we will furnish a tailor-made digital strategy to achieve your business goals.