Social Media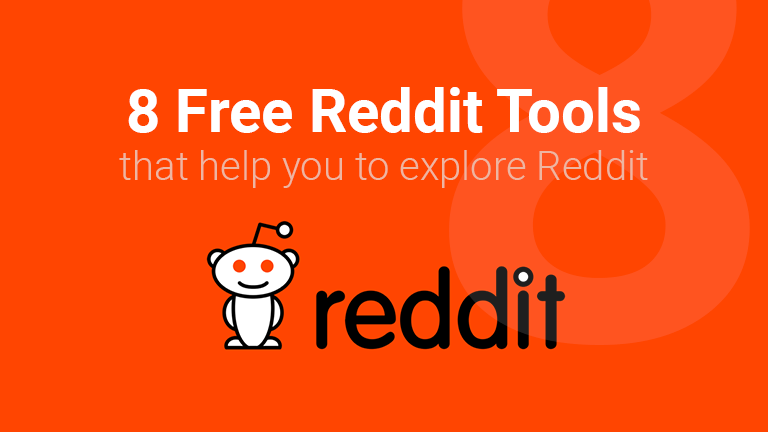 The World of Free Reddit Tools
In the previous article on a Guide to Reddit, you must have understood some of the basic facts that must be noted in Reddit. Today, Reddit stands to be one of the promising tickets for Digital marketers to get noticed in the global business world. From learning many SEO tips and techniques to acquiring leads, and driving in successful customer acquisition hubs, Reddit is the modern game-changer for many businesses today.
There are many free Reddit tools created by software wizards to ease our move within the SubReddit communities. There are many, but 6 of them are now most preferred by users. It will help find the content that you love and search for. Plus, it will help you navigate through the SubReddits and make the most of them.
Once you read this and also pay attention to building your Reddit Karma for your Reddit Profile, you could become an acclaimed Redditor (members of Reddit communities ) in a short while.
1. Findareddit

URL – https://www.findareddit.com/

Creator – Siddhant Jain
Findareddit offers users an interesting and comprehensive search engine experience to find a SubReddit of their niche.
Purpose: This was a great tool designed by Siddhant Jain with a mission to help people find the content and groups that suit their interests. On using this tool, you can search for a subreddit, by going through the menu list giving various topics. If you click on any topics, it further filters the search into various other subsections and you can choose them as you wish.
2. FindonReddit

FindonReddit is another tool that helps Redditors find our Subreddit names in the Google search engine.
Purpose: The creator of this tool is known on Reddit under the name SomeGuy8510 and the approach is quite different from the conventional search process. You can get the benefit of a specialized search for subreddit names without any keywords, or any niche specifications.
3. SubRedditStats

URL – https://subredditstats.com/

Creator – Jevin Jones
SubRedditStats is a bot created for Reddit to help users monitor the number of times a certain word or perhaps a topic has been discussed upon in the sub-reddits.
Purpose: A fantastic bot created by Jevin Jones with the purpose to rank the subreddits. Once you step into the website, you will get the statistics on various subreddits over a number of parameters like growth on a daily/ weekly/monthly/ yearly basis and also take count of the subscribers. On hovering to the Subreddit name, you can click and visit the original subreddit page also. Even the topic most discussed, the Redditors who commented and posted, and the subreddits which witnessed growth in subscriber and post topics can also be taken note of. This, however, is to give marketers – general guidance on the keywords and topics discussed, and should not be used as the final decision maker for any marketing strategy.
4. RedditSaved

URL – https://reddit-saved.com/
Reddit-Saved is a huge time saver for those who keep track of their posts and comments on Reddit. As the name suggests, you get to save Reddit posts and revisit them at any time
Purpose: In Spite of the fact that Reddit is home to tons of content and business communications and conversions, to go and carve a trail for your posts and comments can be a bit daunting, For this, when Redditors save any post, this saved list will be showcased in a list that can be easily scrolled and revisited. As of now, about 1000 saved posts can be done and we need to wait for an unlimited saving option. No more clunky scrollable pages anymore.
5. Reddit List

URL – http://redditlist.com/
Product Hunt URL – https://www.producthunt.com/posts/reddit-list
Creator: Jesse Leimgruber
RedditList is your go-to diary if you need to hunt out any Subreddit under the sky. It contains a wide collection of SubReddits with links, making users navigate through various SubReddits easily.
Purpose: With a huge vision in mind, the creator of Reddit List – Jesse Leimgruber was able to churn out the Top 5000 Subreddits through this tool. The list showcases the subscriber count in the top subreddits and even the growth count of communities in the last 24 hours. Over 5000 entries are entered, and that helps data analysts study the trends and various topics that are being discussed on Reddit.
6. UnReadit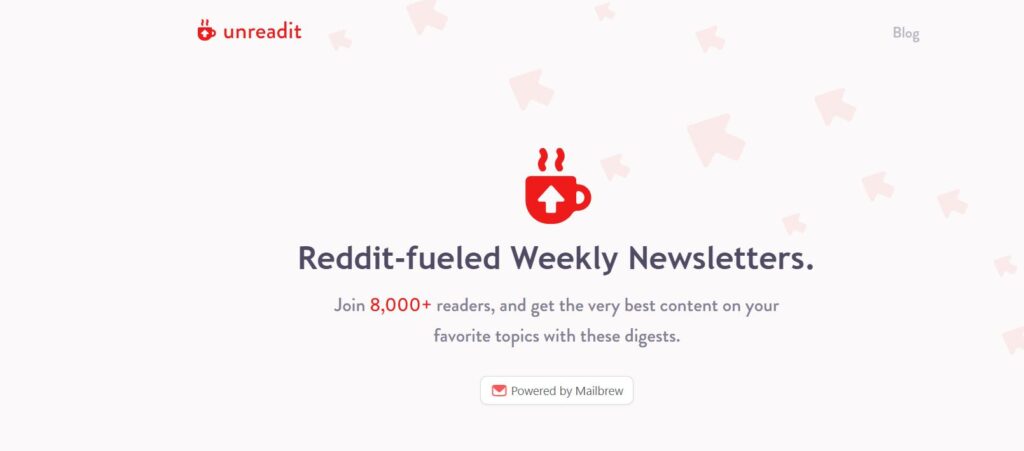 URL – https://unreadit.com/
Product Hunt URL – https://www.producthunt.com/posts/unreadit-2-0
Creators: Francesco Di Lorenzo, & Fabrizio Rinaldi
UnReadit is the new age system where you get curated newsletters that have been generated from some of the best Reddit content entered in the SubReddits.
Purpose: Having noticed that Redditors could spend hours scrolling for great content, the creators of Unreadit – Francesco Di Lorenzo and Fabrizio Rinaldi found a solution to reduce time wastage and that brought shape to this free tool. This technical algorithm explores thousands of niches only to fish out the best content and present them as interesting newsletters to their subscribers.
7. Map of Reddit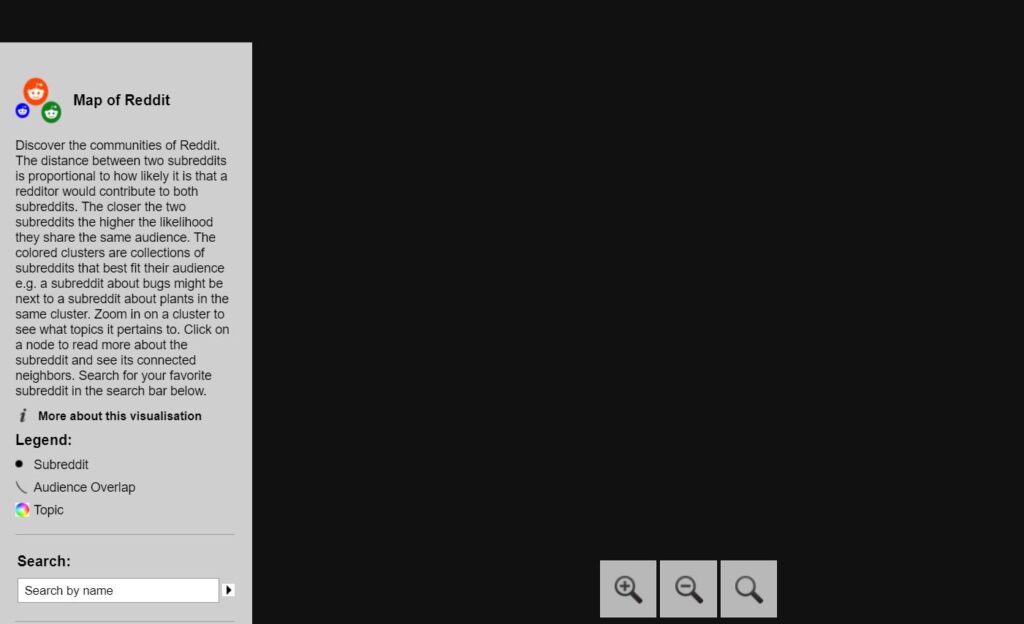 URL: https://www.mapofreddit.com/
Mentioned in IndieHackers as Map of Reddit with Street view recently added
Anvaka has been reaping some serious amount of love and appreciation from Reddit users as now we get to see the millions of SubReddit communities through a map format. The idea is novel and users have found this as a vent to cater to a larger audience.
Purpose: The creator known under the name Anvaka is Andrei Kashcha and has molded out unique software projects like City Roads, Map of Reddit, Code Galaxies, and Field Play. Out of this, Map of Reddit is a free tool used in Reddit to locate so many SubReddits that you may never have heard about.
Once you enter the map and type any topic on the Search Bar, it will prompt out all the possible recommendations under that topic/ keyword. Sub Reddits are represented as Nodes in the map and the size will differ as per the number of subs in that community. Similarly, if nodes are close to each other, it means they may have an audience with similar tastes.
Have you seen the colored clusters? When you search for a particular topic, these colored clusters also pop in to show that they are related topics. For example, if you search for health, clusters related to cooking may also pop in.
8. Metrics for Reddit

URL: https://frontpagemetrics.com/
https://www.reddit.com/r/TrendingReddits/
Purpose: A useful tool that helps Redditors to track out SubReddits that have been created and join them as per their requirements. This tool contains daily updated statistics, which makes it very easy for newcomers to spot out the right SubReddit to join, comment, interact and build their own community as well.
The world knows the website as Front Page Metrics and is considered an unofficial website that updates the subreddit growth daily. Infact, this informational process has helped many SubReddits grow exponentially, and do business pretty well in a short span.
As of June 2021, they have listed out almost 2,969,960 Subreddits and this will keep growing everyday! They can be reached at privacy@frontpagemetrics.com
Paid Tools to Explore in Reddit
You must have had a fair idea of the free tools that can be used in Reddit. We have also added a special entry into our curated listicle and that is a paid Reddit Tool known as YesPromo. So, let's see what this has to offer
YesPromo

URL – https://yespromo.me/
Product Hunt URL – https://www.producthunt.com/posts/yespromo
Creator: Thomas Jacquesson
YesPromo provides a well-picked collection of 100+ self-promotion posts that have helped their creators reach out to their customer base successfully.
Purpose: The founder of this fantastic Reddit tool Thomas Jacquesson worked on a tool that would help Redditors to pitch their product in the most eye-catching manner. Though Reddit is not very supportive of self-promotion, there are a few people who manage to secure great customers in this huge community. So, YesPromo picks out such curated content to help new entrepreneurs create their own pitches and leverage their reach out services in a substantial manner,
Once you enter their website, you would notice that they mention it is a Free database of curated pitch-perfect content. But there is more to that story, which means that this is not free, and if you need to download the database, you can "'pay only what you want to pay". There is no compulsive amount, but something has to be paid, as they are also donating this money received for the Indian COVID relief fund.
On an EndNote
Working your way into the Reddit community, learning where to comment and post does take time. This is when such free tools are great lifesavers for new Redditors. From understanding how to set up your business dreams to acquiring new customers, Reddit is a global platform where you can launch in a very budget-friendly manner. Keep your heads up as we curate the next Reddit-related blog for you. Meanwhile, scribble your comments right below on anything you like to know on Reddit or perhaps – if you would like to try our Customer Acquisition strategy, reach out to us here.